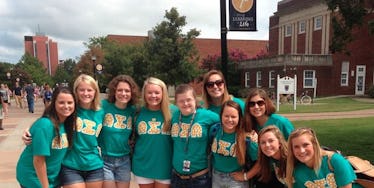 Sisterhood: MSU Sorority Accepts First Student With Down Syndrome
It seems like Greek life is practically never in the media for anything positive.
Actually, it doesn't just seem that way. It is that way.
The media is always blasting stories about hazing, illegal activities, charters getting pulled and other scandalous things that will catch viewers' attention. Looking at things from an outside perspective, I'm sure it's easy to pass judgement, and adopt the belief that the Greek system is nothing but trouble.
However, that is so far from the truth.
Yes, the media brings to light some pretty terrible occurrences, but those incidents are such a small percentage of the Greek life community nationwide.
It's really not common to see a news story about the millions of dollars raised each semester for countless non-profit organizations.
We never hear personal stories from the thousands of men and women who have gained a support system by going Greek. The media never puts the spotlight on the academic successes that Greek life can produce.
We never hear about all the hours of service that each organization completes. It's never about how Greek life has changed lives for the better.
The positive news within Greek life almost never gets covered by the media (even though there is a lot of it), but the bad news is guaranteed to get its five seconds of fame.
This week, however, there was finally some heartwarming news in the media.
Alpha Sigma Alpha at Murray State University extended a bid to Alexis Cain. She is a senior at the university, a member of the Best Buddies organization and a social butterfly. Cain had been looking forward to joining a sisterhood for the past year.
And on bid day, that dream came true. However, this is more than just a bid day story.
At birth, Cain was diagnosed with Down syndrome. Her story is changing the way Greek life is looked at nationwide. Alexis Cain will not only become a sister of Alpha Sigma Alpha. She just became the first woman with a genetic disorder to join a sorority at Murray State University.
The media shines such a negative light on sororities, so much so that some people truly believe that the only women accepted into these organizations are drop-dead gorgeous, Caucasian, upper class and party girls.
Since when do these qualities have anything to do with sisterhood?
Sororities are constantly getting slammed for not accepting diversity. However, as a Panhellenic woman myself, I can honestly say, I have never been surrounded by a more diverse group of students than I am in my chapter right now.
There is no "look" that every sorority woman must have. You don't have to be anything besides you.
Alexis Cain's story helps get this message across. She proves that sororities are looking for what's on the inside, not the outside.
Whenever a horrible choice is made by one Greek organization, it ends up affecting the way people see all of the organizations. So why can't Cain's positive story change everyone's views for the better?
Do your research. The media doesn't show you even 5 percent of the average Greek life experience. Just because you saw an awful news story about one single organization at one specific school, that doesn't mean this is the case for all the chapters at every school.
Sororities hone intellectual, independent, down-to-earth and loving women. Greek life is for anyone who wants to experience all it has to offer.
Greek life is a sisterhood, and sisterhood is not determined by superficial things like shape, size, color or even disorder.