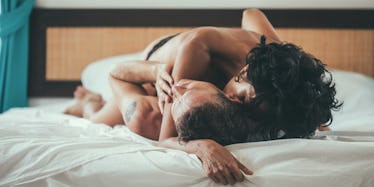 'LoveYourLines' Is The New Movement Celebrating The Beauty Of Stretch Marks (Photos)
Stocksy
"Loveyourlines" is a new Instagram account celebrating the beauty and character that a woman's stretch marks possess.
Many women develop stretch marks during pregnancy or through some other form of weight fluctuation. As a result, self-conscious feelings regarding these marks on their bodies often arise.
This Instagram account proves that no one should feel this way. Stretch marks are beautiful, and can serve as a reminder of a wonderful experience, like pregnancy.
What's more, over 80 percent of Americans have stretch marks in one form or another. It's silly to feel ashamed; practically everyone has them!
The account shows photos of women's stretch marks and proves how gorgeous they can be.
One woman featured on the account said,
Growing into womanhood has taught me to love every little thing about me including my 'love lines.' I know God didn't make any mistakes on me.
Amen, sister. Another woman left an equally inspiring comment,
Imperfections are what make us perfect. Easily said, harder to fully embrace … true nonetheless.
The first photo was posted on August 12th, and the account already has over 9,000 followers.
I urge you to check it out and take a second to look at the photos below. They are all beautiful in their own unique way.
H/T: Buzzfeed, Photos Courtesy: Love your lines