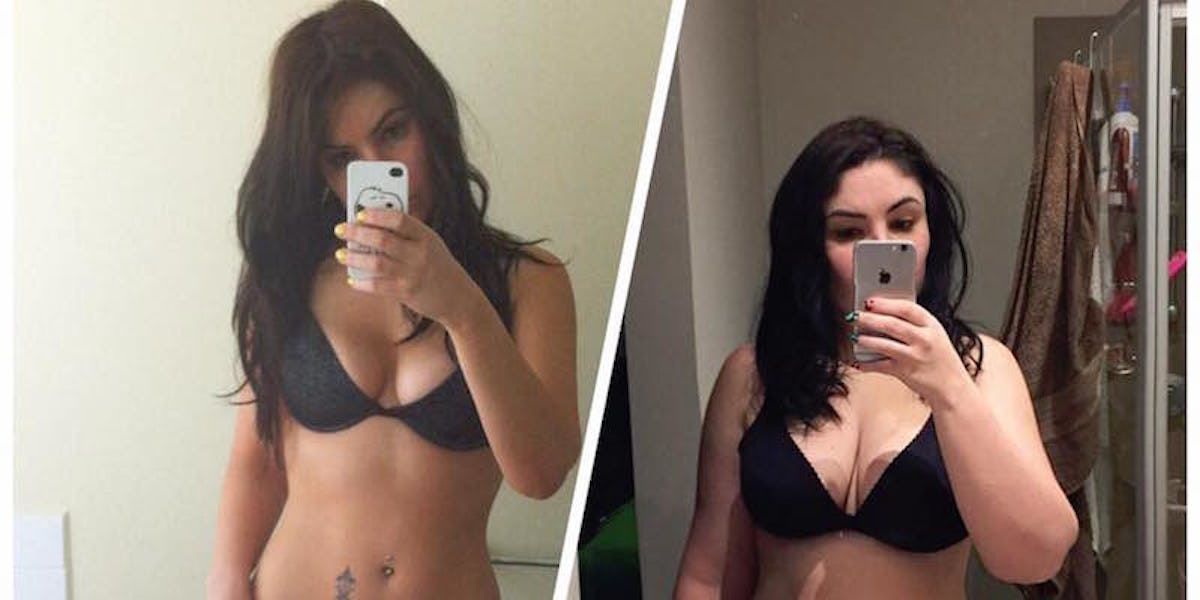 Mom's Side-By-Side Pic Proves Size Doesn't Always Determine Your Health
Facebook
Loving your body as is proves to be a very difficult thing to do, especially when you go through a major life event, such as having a baby.
New mom and blogger, Laura Mazza, from the UK posted the photo below along with heartfelt words about learning to love your body through the changes that come with pregnancy and childbirth.
On the left is a photo of Mazza before having a baby, and the right is after.
The photo has been shared over 4,000 times since she posted it two weeks ago.
I feel like we rarely see before-and-after photos like this.
We are all left in awe of women like Kim Kardashian and Blake Lively who can bounce back from having a baby in eight months, but what about the women who choose not to bounce back?
In the photo on the left, Mazza confesses she wasn't truly happy.
She says,
I ate no carbs, and barely any vegetables. Just meat. But I loved it because I was losing weight rapidly and the more bones that protruded, the more I valued myself. I ended up hating meat, and was always suffering from heartburn. But still I looked at this photo, this image of myself, like I was fat.
She feels her post-baby body and post-baby habits have made her even more proud of herself.
She said,
I have achieved more with this body than I have with my old body. I've eaten more good foods. I've lived more, I've given more, I've enjoyed more. I've made life. This body, THIS body should be celebrated and admired. I should admire myself. I should love myself.
But that self-love didn't come easy.
It took her some time to get to a point where she didn't care about being skinny anymore.
Because sometimes, it's just not worth it to restrict your diet to just meat. How long can someone feasibly sustain that lifestyle, anyway?
Mazza has learned skinny bodies aren't the only ones that should be celebrated. In theory, celebrating all bodies seems pretty obvious, but it's much harder to do in practice.
No matter what size you are, a size 6 or size 60. You deserve to celebrate it. Sexy underwear AND a new wardrobe.
Her honest words and before-and-after photos prove self-love is something we learn over and over again throughout our lives.
Citations: Mum shares empowering before and after photo with a difference (Metro UK)