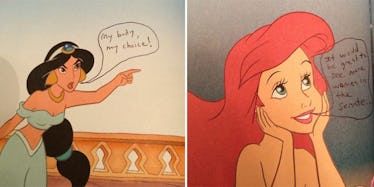 This Mom Edited Her Daughter's Princess Book To Be More Feminist And It's Amazing
Moms are the best. Dads, too... but mostly moms.
When we were young, they fed us, bathed us, dressed us, drove us to soccer practice and taught us the rules of feminism — lifting us closer to shattering that glass ceiling with a backpack full of powerful life experiences and the strength of a million women. And also Oprah.
While moms everywhere have been teaching their daughters just how awesome they are without male validation, traditional fairytales and children's stories haven't exactly kept up with the times.
The stories we grew up reading paint women and men in traditional, old-fashioned, conservative gender roles, often labeling the princes as heroes and the princesses as the ones in need of saving.
But one amazing mom and Sociology Professor at Lehigh Univeristy, Danielle Lindemann, has set an incredible example of how mothers can fight this patriarchal narrative.
When reading her daughter a Disney children's book, Lindemann noticed the princesses' stories could benefit from a few updates.
So, she took it upon herself to literally pencil that magic in.
Take a look at this mom's Pulitzer-worthy feminist edits:
"A princess likes to dress up... in her medical scrubs when she goes to work as a neurosurgeon."
"A princess is kind... of a badass."
"Jasmine flies through the sky... She holds on to Aladdin because he is scared."
"Protect me, Jasmine!"
"What is a princess? A princess is brave... 'My body, my choice!'"
"A princess loves to see new things... like a federal standard for paid maternity leave."
"A princess is a dreamer... 'It would be great to see more women in the senate...'"
It's so important to have mothers like this one taking back the plot and writing in their own empowered endings for women.
Because women of all shapes, sizes, faces, colors and ages are powerful. And no one should tell them otherwise.