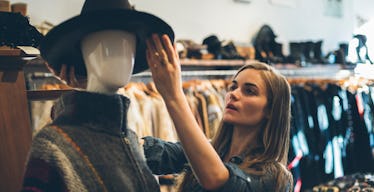 #MissionImpossible: 5 Struggles Every Girl With Big Boobs Has When Finding A Bikini
Stocksy
As Memorial Day weekend quickly approaches, the one thing on every girl's mind is what swimsuit she is going to wear.
This weekend marks the beginning of summer despite the fact that it's only 66 degrees and partly sunny (more like partly cloudy, but we're looking on the bright side here).
Finding a bathing suit sounds easy, right? For some it may be, but for the busty girls, this is a struggle in and of itself.
You can't wear those cute little bandeau bathing suits because they offer absolutely no support, so you look as if you've recently given birth to a child.
String bikinis are a great option, but then you have the whole under boob thing to concern yourself with. Wow, life really isn't easy, is it? This may sound like an ungrateful rant, but I'm the one lugging these guys around all day. Not you.
There are certain struggles only girls with big boobs will understand and finding the perfect bikini probably tops the list, at least when it's summer.
Here is everything a girl goes through when trying to find that top that fits best.
1. Online shopping
If online shopping were an Olympic sport, I'd be a f*cking gold medalist -- that is, unless finding a bikini top online is the mission.
Most websites feature sets where you must buy a top and a bottom that are the same size. I'm not really sure who came up with this concept since I can't be the only one whose top and bottom differ by at least two sizes.
This basically cuts out a good portion of available options and it's a damn shame because most people have had to pass on amazing suits they can't get because they aren't spending double the money to only wear the top piece.
Another online shopping issue with having huge boobs is that you never really know how anything will fit because the models are negative A's and probably 85 pounds soaking wet. That really makes me want to drop $90 on an overpriced top...
2. The coverup
Dresses make you look pregnant and bralettes make you look like a stripper. There is no justice when it comes to beachy coverups.
Pants or shorts and a crop top usually end up becoming your only option, but that's pretty annoying when it gets repetitive.
It's like the designers simply forget about the top-heavy population when they make their summer lines. Sure, I may be a size medium in shirts, but when the focus is around your chest, you don't even know what size is right for you.
3. The undercover support
Bandeaus are out, most triangle tops are out... actually, most things are out. Support is key when trying to find the right bra for yourself as no girl wants to look like she's kicking around two Hacky Sacks all day long. You need some under-the-boob support as well as straps to lift those babies up.
Too bad a sports bra can't just serve as a bathing suit top because that's the only support and relief I ever feel. It's not even just about support. It's about containing them and making sure they are safe and secure and won't be making any unexpected appearances.
4. The actual cost
Why does a piece of "clothing" that covers approximately 10 inches of your body cost upwards of $100? I'm all for splurging on fashion trends, but this is just plain ridiculous. The worst part is that $100 only covers HALF of the bikini. The bottom is another $100.
Sure, you can opt for cheaper bathing suits, but that's when the quality goes out the window and with big boobs, you can't really afford to make that sacrifice.
So you are forced to spend entire paychecks on trial and error, hoping and praying your delivery items will actually fit you, contain you and support on your beach endeavors.
5. The debut
This is the defining moment when all of your big-boobed efforts will be put on display. Your trial and error will have finally paid off because after ordering 12 bathing suits and returning 10 of them, you have the two options that actually came through.
Side boob? Not today. Under boob? Nope. Nip slip? Hopefully not (but you've got boob tape on deck just in case).
You can finally spend your day poolside or lying on the beach without worry because you finally found a top you can be comfortable in. Sure people still won't make eye contact with you during conversation, but hey, at least they're looking.
After the lovely holiday is over, you thank the calendar gods that July 4th is a month away and you have ample time to start your bathing suit journey all over again.