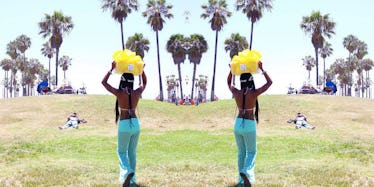 Meet The Millennial Who Wants To Give Homeless Women A #HappyPeriod
On any given weekend, Chelsea Warner can be found walking Los Angeles' Skid Row.
The 27-year-old isn't a member of the city's rapidly increasing homeless population; she's trying to fix it, one cheery yellow bag at a time.
On an unremarkable day this past February, Warner was on her way to manage a wardrobe fitting on the set of an independent movie in Hollywood. As she slowed down for a red light, she became aware of a homeless woman in layered clothing doubled over at the side of the road.
Perhaps inspired by her own ongoing cycle, an idea came to Warner: This woman, who had no home or family, undoubtedly had her period.
Like an earworm of a pop song or an extraordinarily poetic line in a book, the image of that woman tugged at Warner's mind. She couldn't stop wondering what happened to a homeless woman during her cycle. Phoning local shelters didn't get her straight answers, and no one deigned to return emails.
"Being proactive, I emailed all my girlfriends saying, 'This is what I saw today and it really changed me. I really want to do something about it,'" Warner told Elite Daily. "[I said] 'I'm not sure how I feel about this issue except the fact that it won't leave my mind. Will you guys help me out?'"
In the way best friends just know when it's time to provide support, Warner's came through. They met at a local rec center and packed bags with tampons, pads and whatever else they could give.
But the more Warner learned, the more she saw the vastness of the problem at hand. Shelters finally explained their funding doesn't stretch to cover hygiene products like tampons, leaving women to fend for themselves.
"[Homeless women] get arrested because they're trying to steal pads. They're using crazy items like plastic from chip bags and trash. They load up on their clothing…because they know they're going to mess up their clothes," Warner said.
Over the eight months that followed, Warner's one-time personal project grew. Instead of a group of friends, it became a registered nonprofit with a board of officers and multiple branches in cities like Toronto, Phoenix and Tampa Bay. With the help of her mother's 15-year-long background in nonprofits, Warner strategized ways to grow the initiative.
She jokes that the only thing her mother won't do is take on the Internet.
"I'm definitely the creative side because she's not into social media," Warner said.
Warner stays recognizable by handing out bright yellow bags, branded with a smiley face and the phrase #HappyPeriod. She says they've become such a staple that homeless women in Los Angeles look out for them when #HappyPeriod makes its rounds once a month.
The goodie bags, packed by 20 volunteers over the course of a day, usually contain four pantyliners, five pads in a variety of densities and shapes, two plastic tampons and several feminine wipes. When the organization receives extra donations, it will even include a bar of soap and fresh underwear for the bag's recipient. Warner and her team place emphasis on fragrance-free products, so they're safe for anyone to use. To date, the program has completed more than one thousand bags.
Deliveries aren't only made to the "street" homeless, either. The volunteers, most of whom are family and friends of the team, drop off packages at local homeless shelters.
Eventually, they'd even like to provide reusable menstrual cups for women in halfway houses. They aren't ideal for women on the street who don't always have access to running water or even a bathroom.
Now, Warner is faced with her most pressing issue yet: funding. She and her mother primarily bankrolled the organization in its early days, but #HappyPeriod has grown larger than they can manage. Echoing the public pledges of campaigns like the Homeless Period petition, she's set up a GoFundMe in hopes of raising awareness for her cause while also accepting donations.
Warner says she sees her cause as largely female-centric, adding, "It's all about women having a way to give back."
When asked if she's had a second thought about making #HappyPeriod her full-time job, Warner doesn't hesitate. She says she was meant to see that first homeless woman crossing the street so many months ago.
"I don't believe in coincidences," she says. "I don't see this issue going away, either. There are going to be women all over, bleeding, and they don't have supplies for their period."
Backed by the women she loves most, Warner is in this for the long haul. Creating a #HappyPeriod is her mission.