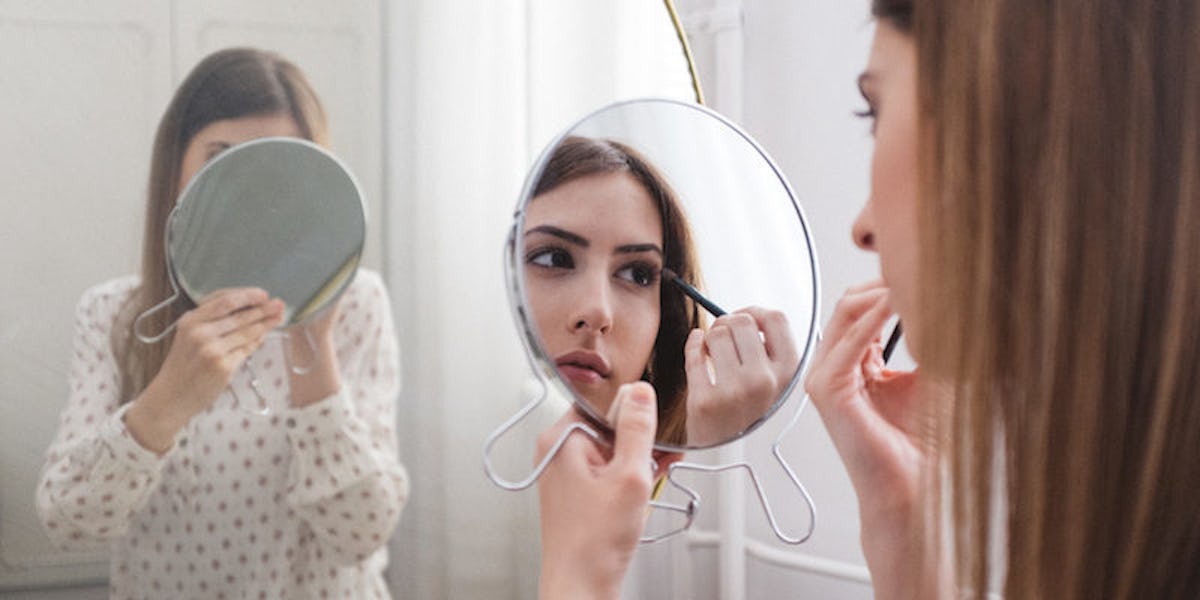 10 Makeup Mistakes You've Probably Been Making Since High School
There was a time when I thought wearing layers of foundation and concealer was the best way to cover up my blemishes. Of course, I felt like a makeup ninja, and no one bothered to tell me wearing layers of creamy makeup and laughing at jokes from cute guys were not a good mix. I usually ended up having my laugh lines etched into my makeup, making me look a lot older than I was.
If you can relate to this story, I'm sure there are many other makeup faux pas you've also made in your past.
So, here are 10 makeup sins you should never commit again:
1. Doing A Full Makeup Look Without Filling In Your Brows
Your brows lift your eyes, which automatically makes you look younger. If you have really thin eyebrows or you tend to overpluck them, you can't afford to make this mistake. Make an effort to fill in your brows, and you will see an immediate change.
2. Testing Your Foundation On Your Wrist
I don't know where the assumption that your whole body is basically the same shade came from, but I know it isn't true. Your wrist is most likely not the same shade as your face. So in the end, you buy the wrong foundation, and your face looks mismatched, especially against your neck.
3. Lining Just The Bottom Of Your Eyes
Doing this pulls your eyes down, dragging all of your features with it. It gives you an old, tired look. If you are going to line the lower lash line, make sure that the upper one is lined, too. Also, try avoiding black liner for your lower lash line. Go for something softer, like dark brown.
4. Wearing A Shade Of Lipstick That's Too Dark
If you are in your teens or still living the youthful life, congratulations. If not, please stay away from dark lip colors. Wearing the latest lip stain is not worth looking a decade older. As you age, you lose definition in your lips. You need to wear colors that add fullness to your lips, and dark colors will do the opposite.
5. Wearing The Wrong Shade Of Blush
Always consider your skin shade when you are selecting blush for your face. Wearing the wrong colors can wash you out or stand out like a weird stain on your face.
6. Lining Outside Your Lips
I don't know who suggested this as a solution to thin lips, but please stop doing it. We can all see where your lips end. We know your lip liner is on your face, not your lips.
7. Heavy Eye Makeup
I think it's clear enough that the older you get, the less weight you should put on your eyes. For your eyeshadow colors, stick to more neutral shades.
8. Not Blending Your Makeup Properly
You don't have to follow every new blending tool trend. Stick with what you're comfortable with and what gives you the best results.
9. Using Too Much Powder
This is an easy way to wash out your skin. Laying on too much powder can give you a dull look and leave your makeup looking cakey. If you need powder for oil control, look for lightweight pressed powder. Trust me, it's worth the trouble.
10. Excess Makeup
Sometimes, putting on too much powder or foundation will bring even more attention to that spot than whatever blemish you are trying to cover up. You also need to be careful with creamy makeup. Prime your skin before using, and use a setting powder, spray or both. That's all I'm going to say.
There are a lot of beauty trends out there, and honestly, new ones pop up by the minute. Our beloved beauty bloggers and vloggers are always coming up with the craziest (but most amazing) makeup ideas for us to copy. No one is saying you shouldn't, but always keep the basics in mind. That way, you don't end up making a mistake that can cost you years of looking young (or a hot date).