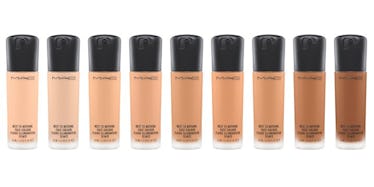 MAC's New Foundation Is Basically An Instagram Filter For Your Skin
MAC Cosmetics
Alicia Keys, I want to personally thank you for your decision to stop wearing makeup.
Although there has been a ton of speculation out there about whether or not you're actually wearing BB cream, I believe your choice has started a beauty trend I can finally get behind.
And Alicia Keys isn't the only person who's into the whole "less is more" look.
The trend seems to have stolen the hearts of one of the biggest beauty brands on the market, MAC .
The newest addition to MAC's permanent makeup line, Next To Nothing Face Colour, will make your skin look like an Instagram filter come to life, #nofilter needed.
MAC Next To Nothing Face Colour, $28, Nordstrom 
Going on, the sheer liquid foundation feels like a moisturizer, but it stays like a powder without transforming into a thick, cake-like substance, which is one of my biggest problems with most foundations.
You really can't even feel that it's there.
It's also pretty easy to lose yourself in the application because it feels like you're getting a soothing face massage.
Basically, it's like giving your soul a bath.
The foundation is so lightweight, you can wear it under makeup or on its own, and the formula is described as having "micro-light boosters," which is fancy makeup talk for "illuminating."
My editor and I decided to give it a try on a rainy day in late March to give those light boosters a real challenge, and we were surprised by the results.
We used sponges to apply, although you could just as easily put it on with your hands, like you would with a BB cream. (In fact, since this stuff is so layerable, I can't wait to use it on top of my BB cream as my actual foundation.)
Overall, we loved how it evened out our skin tone and gave us a nice, subtle, Snapchat-ready glow.
If you have dry skin, or you just hate wearing makeup, the look and feel of Next To Nothing makes it the perfect addition to your beauty routine.
You can pick up your own shade for $31 in stores as well as online on April 6.