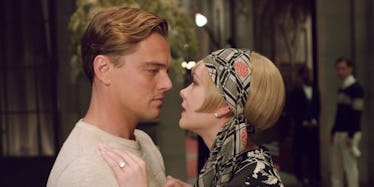 Your Taste In Men Boils Down To Which Literary Character You Crushed On
If you were a literary nerd, forever filling your adolescent mind with romantic prose, your first crushes were rarely ones you could plaster on your wall. Instead, you envisioned love stories with Count Vronsky, Jay Gatsby and, duh, Mr. Darcy. Sorry, Mr. Grey, but Fitzwilliam is way sexier than whatever you can come up with in your Red Room.
While some of us grew out of our literary crushes and moved on to real men, let's face it: They will never be quite as good as what we have dreamed up in our head -- thanks to a little help from Austen, Brontë and Tolstoy, of course.
Whether you're all about the strong, silent type, or a dashing blonde rogue with zero plans for commitment, here's what your literary crushes say about your taste in men.
Count Vronsky, "Anna Karenina"
Count Vronsky is like every guy you've ever slept with in college: He's cute, blonde and has more soul than John Legend.
He's also a commitment-phobic bastard. Don't let that slightly rough around the edges exterior fool you. He will never want to settle down, no matter how set you are on changing his boys' nights to "Game of Thrones" nights with you.
Sorry, love, your Keira Knightley-esque brows and love of butt stuff will never tempt him away from other ladies.
Mr. Rochester, "Jane Eyre"
Mr. Rochester is basically the dude with more skeletons in his closet than ties. He's the kind of guy you date for six months without knowing his last name, occupation or hometown. But let's be honest, it doesn't matter because he's hot as hell and the sex is unbeatable.
Tread lightly — trying to weed out information from him will leave you with even more questions, like why he always keeps the guest bedroom door locked. Also, be wary of his crazy-as-f*ck ex.
Jay Gatsby, "The Great Gatsby"
He's the flashiest guy at the club: Rolex watch, bespoke suit and a smirk that would make anyone with a pulse drop their panties.
He might be the most sought-after Wall Street bro this side of the Atlantic, but he's got some issues. He's way too clingy and will do weird sh*t like stealthily delete his Facebook and disappear, only to mysteriously reappear after you've almost forgotten about him and have moved in with an equally-baller-but-way-less-clingy frat bro. Ugh, Daisy is so misunderstood.
Dorian Gray, "The Picture of Dorian Gray"
Dorian's that guy on Tinder that only has shirtless photos of himself with a telltale bulge in his pants. Sorry, girl, but just because he looks hot AF in his selfies, doesn't mean he's boyfriend material. Sure, stick to stalking those gym snaps, but stay far away.
Sherlock Holmes, "A Study in Scarlet"
All you want is a guy that promises he can solve all your problems.
This know-it-all has an answer to everything, be it your leaky bathroom ceiling or why you still haven't got that promotion you know you deserve. You might think he has your best interests at heart when he tries to help you lose those pesky five pounds, but he's only in it for him, not you.
He genuinely wants to know everything about you, which is a lot more than most guys.
Atticus Finch, "To Kill a Mockingbird"
If you've always had a thing for daddy types, Atticus was your main squeeze. There's something charmingly do-gooder about him, and you can't help but love the way he is around your friends' babies.
But don't let that "guy with a baby" ruse trip you up -- even the goody two-shoes types harbor some seriously f*cked up views, like not caring about Nicki Minaj's VMA Video of the Year snub.
Sirius Black, "Harry Potter and the Prisoner of Azkaban"
Nothing tickles your fancy more than questionable backstories.
Padfoot, as he's known on the streets, sleeps with virtually every chick in college then emerges five years later as a new, totally disheveled, slightly more f*cked up dude.
Sure, there might be some major family drama going on, but who cares? Just stay away from his obnoxious mother and creepy cousins and you're all good.
Mr. Darcy, "Pride and Prejudice"
Every girl has fallen for the Darcy type at least once: He's the one sitting alone at the back of your favorite bar, sipping on some Tanqueray and tonic and every time you turn around, you catch him glancing at you. Don't bother waiting for him to come up to you — you gotta work for it.
He won't say much about his feelings, but he'll make a reservation at your favorite burger place when he knows you had a crappy day or buy you a bottle of wine before girls' night.
Keep this guy around and don't get too discouraged by his inability to say those three little words. He will more than make up for it in dramatic kisses in front of your stoop for all your neighbors to see.
Jon Snow, "A Song of Ice and Fire"
This dude's bumble & bumble collection just might just rival yours, and he definitely knows the importance of a #browsonfleek. But really — how comfortable are you with a guy that spends longer getting ready for night out than you?
Besides that, he's the type of guy to actually like going down on you and will spend hours doing just that. You won't complain until you realize someone used all of your Semisumo again, and no amount of flicking the bean will fix the $30 hole in your wallet.
James Bond, "Casino Royale"
You can never pin this is the guy down. Judging by his Instagram feed, he's doing enviable things like surfing in Waikiki or grabbing pasta in Naples. When you do manage to get some alone time with him, you're interrupted by either his phone ("work stuff") or former flames still subtly flirting on Google Hangouts.
He wants to hike, travel and constantly be on the move. At least he looks damn good in a suit.
Edward Cullen, "Twilight"
Stay far, far away from this dude. He will use Find My Friends to track your every move and then demand to know who you were with and why. He has trust issues, and while you'll try to work through them, he'll never believe your best guy friend of, "like, a million years" has been friend-zoned just as long.
Whatever, he sparkles.