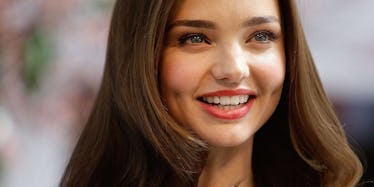 16 Lipstick Colors That'll Help You Channel Your Hollywood Girl Crush
Getty Images
I get makeup boners.
Get your mind out of the gutter, I'm not being weird with empty lipstick tubes and used brushes.
In reality, my makeup boners are created by really awesome beauty looks, excellent foundation or when I get to hang with idols in the beauty world. Naturally, I had a total moment when I met with makeup artist (and one of my own personal girl crushes) Charlotte Tilbury on a sunny Tuesday in March.
Something about Tilbury is ethereal. She's British and bubbly, talking as enthusiastically about full, "slutty" lashes as she is discussing the charity she's partnering with for her latest launch, Women for Women International.
Tilbury is like that cooky British aunt you absolutely need in your life. She's also damn good at doing her brows.
More importantly, she knows a thing or two about a great lipstick. There's a reason Kate Moss and Penelope Cruz keep coming back to her for their signature lip looks. In order to pay homage to some of her A-list celebrity clients, Tilbury created 16 "Hot Lips" shades celebrating her clients from Cindy Crawford to Kim Kardashian.
"I try to steal their DNA," Tilbury says of her glamorous friends. "So that I can give it to other people."
The shades were created because celebs like Miranda Kerr are so particular about the colors they like. Each lipstick is the product of many mixed shades (in Kerr's case, it's pink and coral) for that one perfect celebrity-approved color.
Kim Kardashian, for example, got an iconic nude shade.
"She's an iconic beauty," Tilbury explains. "When I look at her, I think of Raquel Welch and Sophia Loren, even a little Audrey Hepburn."
Helena Bonham Carter, however, needed a rich mulberry — perfect for the badass actress. Tilbury was inspired by her gothic beauty, though she had to limit the input Carter had in her lipstick.
"She wanted the name to be 'Hel's Bells' or 'A Kiss from Hel,'" Tilbury says with a laugh. "I told her that 'Hel's Bells' worked!"
Emily Ratajkowski, Tilbury explains, is a modern, all-American girl. The actress needed a shade just as sexy as she is, so Tilbury made her the bright red, dubbed "Hot Emily."
Salma Hayek's lipstick — a deep, rose-y plum shade — was a tribute to the actress' Latina heritage. Tilbury says the natural, darker hue of her lips is "so sensual and sexy."
Tilbury's girl crush, however, is Cindy Crawford. She paired the "all-American, sexy beauty" with a taupe shade.
"I kind of want to be her," Tilbury admits. "Even though I'm nothing like her!"
To Tilbury, lipstick is one of the most important things in any girl's makeup kit. It's a universal fascination, a "little tube of happiness."
"Lipstick is our war paint," she explains.
In a way, it is. No matter my day, I always make it a point to have a pretty lip on, just to make me feel a little more alive.
You might not be able to get your hands on these beauties until July, but they're worth dreaming about until then.
Are you a pre-Raphaelite beauty like Nicole Kidman, or eclectic like Poppy Delevingne?