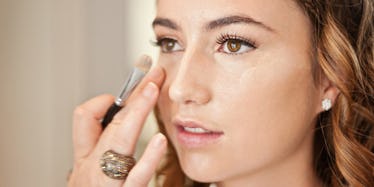 This Magical Foundation Makes Every Skin Type Look Absolutely Poreless
Ideally, makeup should make my face look like the best version of itself. Unfortunately, most products just look like I'm wearing makeup or dyed my face a slightly different color than the rest of my body.
Until recently, that is. I've discovered the rainbow magical unicorn of foundation and, after sharing it with every single woman in my office, I'm bestowing my beauty cure-all onto you: Tarte's Water Foundation, part of the brand's Rainforest of the Sea collection.
Tarte Water Foundation, $39, Sephora 
The 12-shade foundation line isn't cheap, at $39, but every dollar you spend is worth it for how flawless you'll feel. Three of our staffers have been trying the product, each with a different skin type, and all agree it's the closest they've come to physically appearing to be without pores or acne scars.
Whether used on oily skin or dry; applied with a brush, BeautyBlender or fingers, Water Foundation blends to an entirely natural finish. It even has SPF 15, something that's hard to find in foundations, as well as Vitamin E. Our resident beauty snob Bella, quick to rip apart even the most expensive products, doesn't mind the fragrance.
Although the glass bottle looks a lot like the clunky drugstore kind you might recall from the days of covering teenage acne, the formula is much lighter than its goopy forebearers. It's taken the place of my tinted moisturizer and BB cream for light coverage and a texture that feels natural.
Set with a little pressed powder, a full face lasts me more than 8 hours without any primer. It covers my dark spots, budding pimples and even the orange-peel skin of my nose and cheeks. Four drops, dispensed with an eye-dropper cap, is usually enough to hide it all.
I plan to make this baby my ride-or-die come summer, the season of accidental (but omnipresent) facial sweat.
Try it out yourself, and report back.