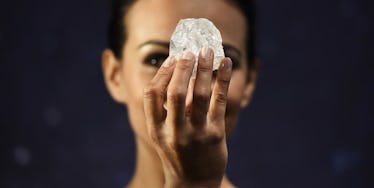 Hint, Hint: This 1,100 Carat Diamond Would Make The Ultimate Engagement Ring
REUTERS
Do you remember those Kay Jewelers commercials that started with a perfect boyfriend taking an identically flawless woman on vacation and proposing? The cloying jingle played ("Every kiss begins with Kay") and the pair undoubtedly sealed the deal in an un-sweaty and glamorous fashion.
In real life, every kiss does not start with Kay. The really photogenic kind starts with enormous engagement rings so big they could be mistaken for chunks of hail.
Wondering where you get one of these aforementioned eye-boggling diamonds? Look no further than Sotheby's in London, where the largest diamond discovered in over a century is up for sale.
On the evening of June 29, CNN reports the famously posh auction house will host bids for the largest uncut diamond in the world -- one notably more transparent and clear than most. The gem, called Lesedi La Rona ("Our Light" in Botswana's Tswana language), boasts an astonishing 1,109 carats and is predicted to sell for upwards of $70 million.
But, with the drop in value of the British pound thanks to the country's exit from the European Union, it's unclear how much the item will actually fetch.
What are the chances no one will bid and I can just buy the oversize rock with $20 and the pack of Stride gum that's in my purse? Yeah, I didn't think so.
The tennis ball-size diamond, which was uncovered in Botswana this past November, has been estimated as over 3 billion years old. Even more reason to turn it into a massive engagement ring, then -- surely, a history that long indicates a marriage that will last forever? Just imagine the Instagrams you'd get out of it, too.
According to David Bennett, who heads Sotheby's jewelry division, the night marks a historic sale for the company. The Lesedi La Rona is the largest uncut diamond ever sold to the public.
On that note, I'd like to start the bidding with the 25 cents I found left in my pocket from doing laundry. Anyone else?
Citations: World's largest uncut diamond is going up for auction in London (CNN Money)