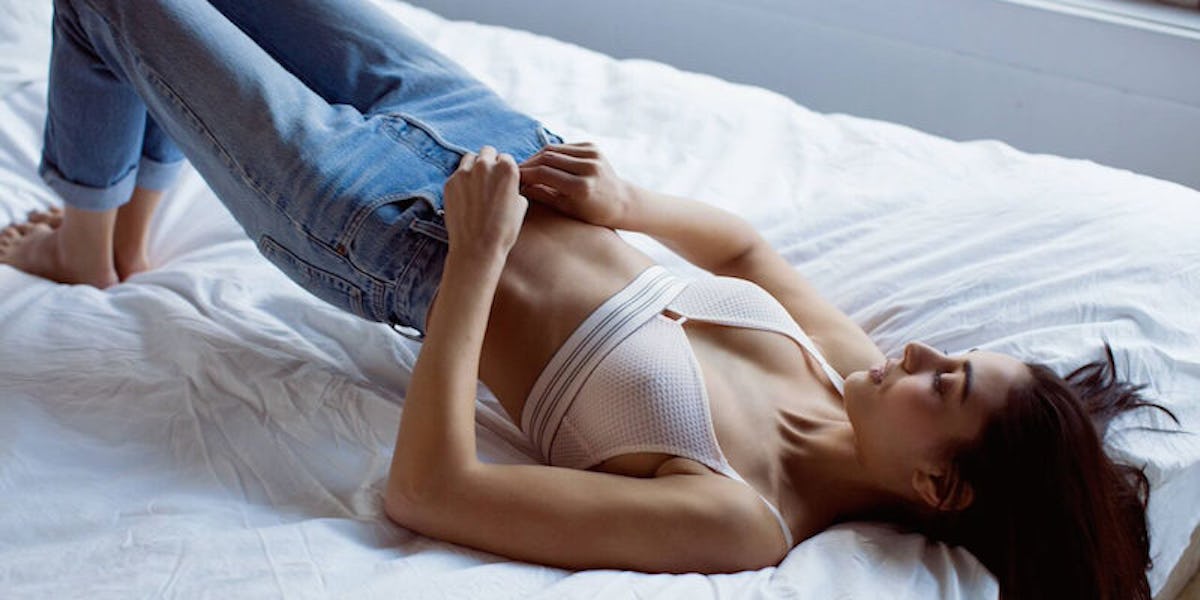 'Leisurée' Is The New Underwear Trend That's Like Sweatpants For Your Boobs
Kayla Varley
Every woman I know loves the idea of lingerie, buckling up garters and pulling the laces of a corset tight before slipping on a pair of stilettos to show off her sex appeal. But, in reality, the look's a little more complicated. Garter belts are overpriced and corset boning pokes into the sensitive flesh of your ribcage.
That's not to mention actually getting into whatever sexy one-piece you're trying out. There are only three times being a woman is actual physical exercise: during self-tanning, while pulling up Spanx and attempting to squeeze into lingerie.
We've already seen hyper-sexual brands like Victoria's Secret turn to lacy bralettes in an effort to woo the generation who loves normcore and minimalism. In the first quarter of 2016, Forbes reports there was a 157 percent boost in new bralette products available online. And now, it seems, we're taking the idea of comfy undergarments one step further.
If you haven't yet heard of "leisurée," you and your breasts that are tired of being squeezed into weirdly-circular foam cups are about to be very happy. The idea combines the best of athleisure (sporty materials in designs that are real life-appropriate) with lingerie, resulting in beautiful designs made of soft material.
Although the idea's been in play since last year at least, we're just starting to put a name to it. Online-only retailers like True & Co. and the recently-launched Lively take simple silhouettes and elevate the conversation. They wonder not only about how to sell the product, but how to keep customers coming back because the fit and comfort are so remarkable.
To date, however, Lively is the only brand to actively push the term to describe its line. Michelle Cordeiro Grant, Victoria's Secret alum and Lively founder, told Fashionista,
The word 'lingerie' immediately gives you the connotation of 'corset,' 'pushup,' 'lace,' 'armor,' 'for men.' So I said, 'We need to come up with something [else] to define what we're selling.' It dawned on me one day that it's athleisure.
How to know if you're wearing leisurée? If you don't rip your bra off the second you walk through the door, there's a good chance you're in on the trend. Or you're especially resilient to the confines of underwire prison.
It's not just bras, either. Lively makes a mean bodysuit, while True & Co. errs toward the kind of pajamas Jennifer Aniston might wear in a movie about her chic writing career after a breakup. There's even underwear brand MeUndies, which pairs supersoft underwear with bright, bold prints that change frequently.
Break out your credit card and burn your bra (you don't have to, I just wanted to see if I held that kind of influence over you). It's time for the cozy revolution.
Citations: NEW BRAND LIVELY IS BRINGING ATHLEISURE TO THE LINGERIE SPACE (Fashionista)