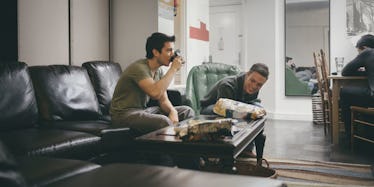 How Going On 7 Dates In 7 Days Taught Me More About Dating Than Any Magazine
Stocksy
Attending a state school with over 40,000 people has its perks. You'll always meet new people, go to big parties and have a huge group of friends. The girls are beautiful, and the guys are hot. What more can you ask for?
Well, everything that glitters isn't always gold. Always meeting new people makes people less likely to want to slow down or even date. What's the point when, tomorrow, you can go out and meet another beautiful bombshell?
I have friends in their third year of school, and they have never gone on a date before. Frat parties and meals at the dining hall have to suffice.
So, this summer, when I found out I was living in the New York City for the second summer in a row, I was excited to be a "real person," channel my inner Carrie Bradshaw and play the dating game.
I have had boyfriends throughout high school and college, and go on dates here and there, but there was something exciting and completely new about dating in the Big Apple.
The other interns and I were pretty close at the place I worked, so you often found us talking about our ex-boyfriends, bad dates, great dates and everything in-between. All of this dating talk sparked an idea in my head, which led to my social experiment.
I would go on seven dates in seven days in New York City. The other interns highly encouraged this.
I mean, why not go on a date every day and get free meals and cocktails? I wasn't interested in just that, though; there was something else for which I was searching. In a city of men from all over the world, are all men the same?
Are they just like the guys at school, surrounded by tons of women with no interest in slowing down? I was about to find out with the first date. It was Monday.
Date #1: The Older Man
When I say older, he isn't much older. I'm young and have always dated a year or two above me, but I would say, most of the time, I'm never on the same maturity level as these guys.
I find myself talking about the future, my career goals and my success. Sometimes, that intimidates guys my age; so my date with David was a breath of fresh air.
We met at Campbell's Apartment, the infamous lounge where Serena stole Nate away from Blair in "Gossip Girl." It was classy, a nice change from the dive bars filled with frat guys that I have been going to.
After a few $20 cocktails, we were hungry and went to a mutual favorite restaurant in Hell's Kitchen for dinner. My date with David was as perfect as a first date with someone could be. He was smart; we carried a conversation. However, every time he would ask me questions about my life, it would naturally relate back to college.
I then realized, since I am still in college, college talk is bound to come up, but is that really what a 25-year-old man wants to talk about?
Date #2: The Friend From School
After I realized I would like to be around someone whom I could talk to about my internship, but also my fun weekends at school, I finally took the offer of a friend from school to get a drink after work on Tuesday.
If you were a New York City intern, you would know that Turtle Bay is famous for its Tuesday happy hour that includes dollar beers. You can't even get water for a dollar in New York, let alone a beer, so Josh and I were so there.
After waiting in a line that was way too long, we immediately stumbled into friends from school. A few beers later, we found that this was nothing more than a group date. Friends kept intruding upon our conversation.
The music was loud, and the beer was cheap. This date was similar to going to a frat party with an escort, except, instead of free alcohol, we paid for it. I would see Joshua again back at school.
Date #3: The Bartender
Last summer, aside from interning, I also bartended to make some extra money. Ever since I was a bartender myself, I have a new appreciation for bartenders in New York City.
I always enjoyed when people carried a conversation with me instead of asking for a vodka soda and running away fist pumping. Whenever I go to bars and ask for a drink, if the night is slow, I will make conversation with the bartender.
This is how I met Jon. He was a bartender at this bar down the street from my apartment, and I was becoming a regular, so Jon and I would see each other a few times a week. One night, he gave me a "free drink" card with his number on the other side of it, and we decided to make plans.
He was performing at a bar in the East Village, and afterwards, he wanted to get a drink. It was hump day, and after two unsuccessful dates, I was in kind of in a slump, but after hitting the gym after work, I realized I had nothing to lose.
After performing a few songs, he accompanied me to a table for two with two glasses of sangria, my favorite drink. This bar prepared them well, so the date was already off to a good start.
Jon and I talked all night. He was from New York City, so that automatically came with a lot of stories. When the night ended, Jon walked me home, and we hugged goodnight. I will see Jon again at the bar; I'm sure.
Date #4: The Bad Date
The week was going pretty smoothly, so when Thursday came rolling around, I had a feeling this was going all too well. I'm on Tinder, along with the rest of New York City, but every now and then, I get a little hesitant about it.
Some of the workdays can be long, though, and to occupy my time at lunch, I might swipe left or right a few times. This is how I met Justin, who quickly became my date later that night.
From Justin's picture, he was tall, dark and handsome. I'm big into personality, but when it comes to Tinder, I don't care what anyone says; we're all shallow. So, when I met Justin outside the bar that night, he fell short of his Tinder personality, but he was already in front of me.
We sat down and talked about the superficial topics like hometown, major and family. At the end of the night, Justin offered to walk me home, but I declined. He later texted me, letting me know he had such a great time, and he wanted to do it again.
I was not going to see Justin again, but I just didn't have the heart to tell him that.
Date #5: The Good Date
It was Friday, my favorite day of the week, so any guy who was going to occupy this night was going to be worth it. His name was Sam, and I met him through a mutual friend in New Jersey on the Fourth of July.
Sam was cute, my age and definitely fun. We had been texting for the past couple weeks, so when he asked if he could visit me one Friday, I let him know he was more than welcome. It turned out my sister from out of town was also visiting and staying with my other sister who lives in the city, so I guess Sam would be meeting the sisters on the first date.
I gave him a warning to what could be a very awkward situation, but he was a trooper and kept reassuring me that he was excited to visit. My sister is a huge planner, to say the least, so she made a list of bars we were going to go to that night. Thankfully, one of my best friends from school and her boyfriend were also in the city, and they were tagging along, too.
Surprisingly, the night was perfect. We went for sushi before we went out and caught up since we saw each other last. Sam was a great sport about meeting my sisters and friend. My friend's boyfriend hit it off with Sam, too.
Out of all the dates so far, my date with Sam was easily the best, and I would even go as far to say that there was a spark with him. We danced the night away and then shared a slice of pizza (the most obvious way to my heart). I know I'll be seeing Sam sometime again soon.
Date #6: The Day Date
There is something a little different about a day date, especially when it doesn't involve alcohol. I met Stephen at a bar in June, but our schedules never matched to ever meet up again.
I brushed off my hangover from the night before. My date with Sam was great, but I was too far into my social experiment to call it quits now. Instead of meeting at a bar in the middle of the afternoon, Stephen and I decided to walk around the city.
It was a beautiful day, and we were still somewhat new to the area. Stephen just graduated from college and moved down to the city after getting a job in finance. He was smart and had everything going for him, but he still had a lot to learn about himself and a lot to figure out.
I could sense fear in his eyes when he talked to me about missing his family, his friends and being lonely. I'll be sure to catch up with Stephen when I come back to the city sometime in the future.
Date #7: The Date with Your Best Friend
I know I said after all the dates, Sam wins the prize, but I take that back. Nothing beats a date with your best friend. We got dinner, and for a change, I paid, and we talked about my week-long experiment.
After a week of dating, I was exhausted, but I learned more than any magazine or dating column could have ever taught me.
First, no date will ever be more fun than a date with your girlfriends. Second, if you date enough, you'll save enough money to buy those new heels you've been eyeing. Most importantly, serial dating can be fun. You're constantly learning about someone else, and there is little to no pressure, but at the end of the day, a date is all it is.
It's just a date. Instead of bettering your relationships with people in your life who already know and care about you, you are spending time spilling basic facts about yourself to someone you might potentially never see again.
Maybe you're like my friend from school who is 20 years old and has never been on a date, or maybe you're like me, and you have been on weeks worth of dates, but you're just not that into the game.
Whatever it is, that's fine because we're young and in a society where we don't need to date if we don't want to. I think, after a full week of dating, I've fallen into a deep dating coma, and going back to a dating-free zone at college won't be too hard.
Photo Courtesy: Miramax Films/Serendipity