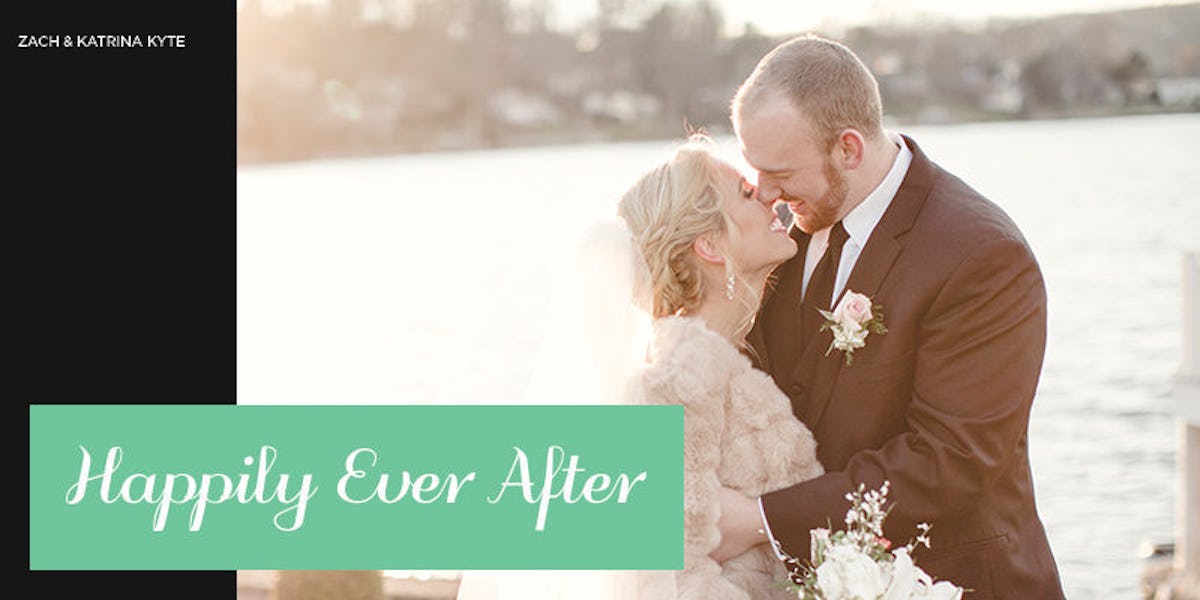 Happily Ever After: A Lakeside Winter Wedding To Warm Your Heart
Welcome to Elite Daily's Happily Ever After series, a collection of extraordinarily unique and downright spectacular Millennial weddings showcased in magnificent detail.
It's the ultimate inspiration for brides and grooms-to-be and romantics who just cannot get enough of fairytale weddings.
If your "dream wedding" folder is bursting with photos of vintage décor, vibrant flower bouquets, black tie flair, floating candles in mason jars, delightful wedding cupcakes or cake pops, (and the list goes on), our Happily Ever After series will fuel you with even more creative vision for your special day.
Zach and Katrina Kyte's romantic wedding story begins on a bridge in Central Park.
The couple planned to enjoy a picnic lunch with the cityscape behind them. Little did Katrina know, Zach had a photographer waiting to take engagement photos of them right after he popped the question.
Of course, the bride-to-be said yes, and they embraced, welcoming in the next chapter of their lives together.
On the morning of the wedding, the bride's father made waffles in the kitchen for the bridesmaids.
The fire burning in the fireplace created a calming and cozy vibe before the big afternoon.
Katrina's bridesmaids surrounded her excitedly as she slipped into her wedding gown, found at Occasions Bridal in Bethel, Connecticut.
The maid of honor buttoned up the back of the bride's stunning dress, complete with beaded embellishments on the straps.
Katrina fell in love with the timeless elegance of a cathedral-length veil.
The ceremony and reception took place at the Candlewood Inn in Brookfield, Connecticut.
Light poured in through the windows as the ceremony began, illuminating a soft vision of crisp white and pastel.
The venue was situated right on a lake, which meant a breathtaking wintery backdrop for photos.
Red winter berries popped against the neutral color palette of the bouquets, tying into the holiday décor and winter wreaths at the venue.
During photos on the lawn, Katrina looked like a beautiful winter queen in her coat and tan booties.
A dark chocolate wedding cake with white chocolate filling completed the decor, delicate frosting flowers and all.
Best wishes to the happy couple, Zach and Katrina Kyte!