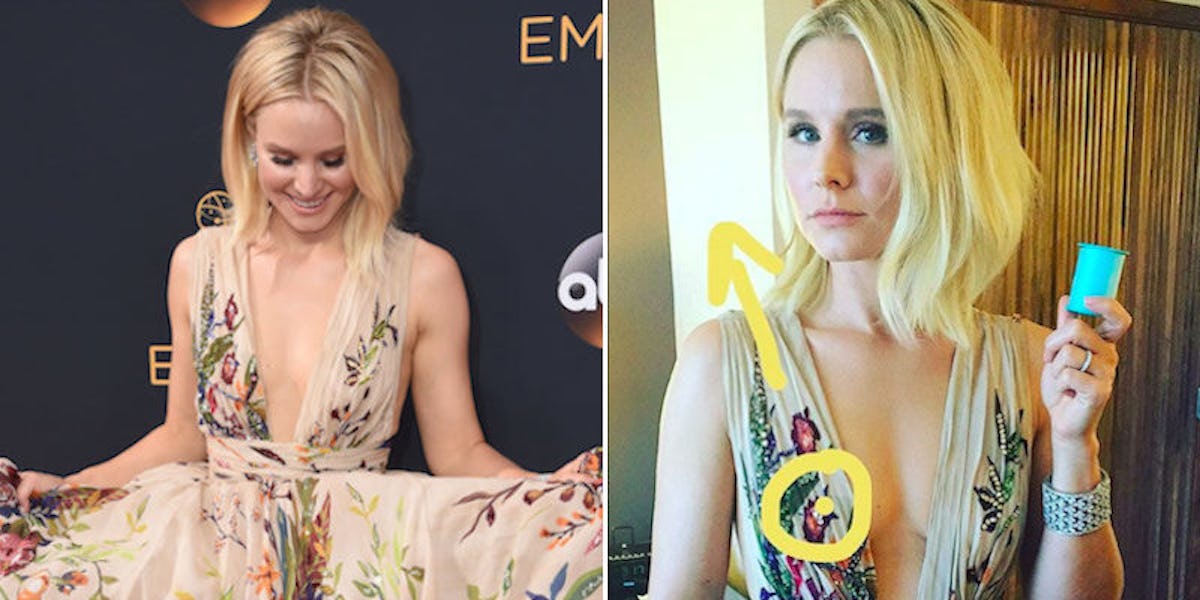 Kristen Bell's Hilarious Emmys Boob Lift Will Change The Way You Wear Dresses
REX/Shutterstock/Instagram
With the end of summer comes something far more frightening: awards season.
The VMAs and Emmys are behind us, and the Grammys and Oscars are just ahead. We're right in the middle of the most dramatic time in Hollywood. The only person getting me through it all is, undoubtedly, actress Kristen Bell.
Thanks to social media, fans can actually see the hours that go toward turning celebs into those beautiful, gazelle-like creatures, who waft onto the red carpet effortlessly.
In reality, they wake up with pimples and bad breath, just like us. They just pay people to get rid of them.
Bell, the star of the upcoming show "The Good Place," kept it seriously real on Instagram during the Emmys.
After fans adored Bell's voluminous Zuhair Murad gown, the actress followed up with a post showing her trick for fitting into the dress.
Just like Kim Kardashian, who famously created a gaffer-tape breast halter instead of wearing a bra, Bell taped her boobs up for an instant breast lift.
Bell wrote,
When you need a non surgical boob lift to perfectly fit into [your] emmy dress: Step 1. Tape your nipple to your shoulder. Step 2. Repeat on opposite side.
The actress went on to give a shoutout to Leukoflex, a surgical tape brand that's actually meant for holding wound dressings in place... or, you know, celebrity boobs.
Bell's fans clearly appreciated the honesty, calling her "the cutest" in the comments.
Perfect boobs weren't the only myth Bell was out to bust, either. Over the course of Emmys night, she posted photos of both half-finished hair (scary) and pizza sauce on her chin.
It's important Bell gets all that honesty out of her system before daughters Lincoln and Delta are old enough to roll their eyes and be totally embarrassed by her behavior.
Mom, seriously? Do you always have to Instagram about your boobs? My friends think it's weird.