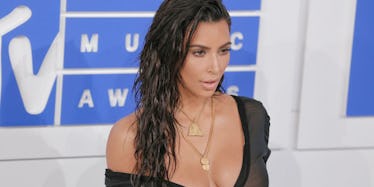 Kim Kardashian Wore Actual Snail Slime In Her Hair For The VMAs
REX/Shutterstock
When it comes to looking young forever, it's a known fact that the Kardashian-Jenner clan will do whatever it takes.
Bathing in blood, being poked and prodded, sacrificing a virgin or two — all these are small sacrifices in the name of vanity. Right?
Well, now they're taking their youth-chasing efforts to new, nasty heights by trying out snail snot.
Oh wait, sorry... snail mucus.
At the 2016 MTV Video Music Awards, you might have seen Kim Kardashian's fresh-from-the-shower white carpet look.
Her wet-looking mane and transparent dress gave the impression Kanye hogged the bathroom until the last minute, forcing her to take on the press without a full day of glam preparation.
But this is the woman who doesn't do a single thing without days of plotting and preparation beforehand, so you know a lot more went into her sex-on-the-beach look than meets the eye.
In fact, the secret behind her damp waves was a little ingredient called snail essence. For the sake of my sanity, I'm going to refer to it as "goo."
Michael Silva, Kim's stylist, applied Kenra's new Platinum Snail CC Crème ($25) to the celebrity's wet hair. Yes, the hair cream does, in fact, contain snail essence — an ingredient that's already made its debut in Korean skincare.
The protein blend promises to "awaken youth" in the hair, creating shine and boosting strand elasticity. (TBD on what it smells like, though...)
If there's one creature that's an expert on elasticity, it's surely the snail. Have you seen those things move? They're basically glorified tongues with shells, squelching across the ground.
According to dermatologists, the popularity of snail essence is largely based on individual results rather than research. However, that's partially due to its newness on the market.
For my part, I'd much rather apply a hair lotion than stick a few snails to my face (a real thing you can pay money to do, by the way).
Silva explained Kim's hairstyle was an attempt to embrace the last few weeks of summer.
He said,
Kim and I decided to keep her hair fresh and sexy, perfecting and enhancing her natural texture... There is something effortlessly beautiful in playing up natural texture, but of course always making it polished and beautiful.
After applying the Snail CC Creme, he followed with Kenra Platinum Revive Oil and Texturizing Mist before blowing dry.
Looking to try out the anti-aging effects of snail goo yourself? Try the CC Créme, or opt for a Korean snail face mask. Or, you know, just rub a garden snail all over your face.