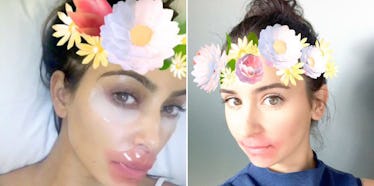 Kim K Can't Get Over This Mask That Gives You Fuller Lips In 20 Minutes
Snapchat/Emily Arata
I'm a sucker for a fad, particularly one that sneaks its way into the Kardashians' 9-to-5 lifestyles. In my life, K-beauty is more likely to stand for "Kardashian" than "Korean."
Normally, I'd pretend to apologize for that, but not today. Today, we're talking about the greatest invention of all time: the temporary, collagen-infused lip mask.
I first saw jellyfish-looking masks while researching the fake lob Kim wore to the launch party. (Spoiler alert: It turned out to be a wig.)
KNC Beauty Lip Mask Set, $25, Nordstrom 
Then, I saw the gelatinous masks popping up all over my Instagram feed. First from DJ Hannah Bronfman, and then Teen Vogue Editor-in-Chief Elaine Welteroth. (If you don't follow her, remedy that immediately.)
After Kim Kardashian Snapchatted herself using the faux lips, I furiously began scouring social media to find the brand behind the pucker.
The lip masks turned out to be the sole product of KNC Beauty, the cosmetics brand from writer, jewelry designer and general girl-about-town Kristen Noel Crawley.
Want a plump pucker, but none of the expense that comes with Kylie-esque lip fillers? Try these celeb-approved masks instead for $5 a pop (or $4, if you buy a larger set).
I reached out to KNC Beauty to give them a try myself.
Besides being just plain hilarious to selfie with — our photographer can attest to the fact I laughed myself to tears using the filters to capture my oversized pink mouth — the 20-minute mask session will only leave you with a slight tingling, no burning or stinging.
This was probably my best selfie session of all time. Thanks for the heads up, Kimmy.
The masks claim to hydrate, plump and condition, using collagen and Vitamin E simultaneously. After cleaning your lips, all you need to do is pop on the mask and wait 20 minutes.
Afterward, KNC Beauty promises a considerably more voluminous pucker. It's the perfect beauty prep to make your matte lipstick flawless.
I've used the masks twice now: the first before heading to bed, the second on camera.
While their slimy, gelatinous texture might take away your appetite (definitely don't dangle them sideways like I did because I'm a child), they sit nicely over the lips and don't cause more than a small prickle of discomfort.
This is me, pre-lip mask with naked lips.
After the allotted time, my lips felt considerably less flaky and plumper. I laid down a coat of pink lip stain on top.
It's like a very small, sexy bee stung my lips to give me the perfect pout. I've never actually been stung by a bee so I'm operating on instinct alone, but that metaphor just feels right.
KNC Beauty recommends reapplying two to three times a week, so you're always amping up those flawless smackers.
Would you try the lip masks? Leave me a note in the comments.