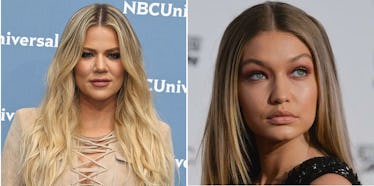 Khloé Kardashian Looks Exactly Like Gigi Hadid In This Strange Picture
Rex/Shutterstock
One of my favorite things about middle-aged people is their complete inability to tell the hottest stars of the social media era apart.
Most people recognize Kim Kardashian, sure, but once you've reached the Martha Hunts and Gigi Hadids of the world, you've totally lost them. My mom usually just stares at me blankly, eyebrows knitted together, as I attempt to explain the difference between Selena Gomez and Katy Perry.
However, the newest cover star of Harper's Bazaar proves our parents aren't actually that insane — stars are all melding into one.
According to photos Khloé Kardashian uploaded to her Instagram Tuesday morning, she's the featured celeb on the magazine's cover this month. My brain believes that, but one quick glance at the aforementioned image leads me to think I'm looking at Gigi Hadid, supermodel and on-again, off-again Zayn Malik flame.
On a normal Tuesday, the two women have practically nothing except fame in common. Whoever retouched these photos, however, seems to have some explaining to do. Khloé's normally long face, made thinner by a reported 40 pounds of weight loss, is rounded to the baby-like fullness that makes Gigi famous. Straight, blonde hair frames the Kardashian's face in an exact imitation of Gigi's celebrated 'do.
Now, part of the similarity might be due to Khloé's makeup for the shoot. She's normally one to go all-out with overdrawn lips and dramatic fake lashes, but the Harper's team certainly created a more sultry, natural look for its star. Even so, I just can't chalk it all up to natural causes.
The similarity is evident, even if you're not a person who professionally stares at celebrities all day. Numerous comments on the Instagram say things like, "Ok Gigi Hadid."
Sure, Khloé looks fantastic — that camel turtleneck situation is minimalist perfection — but there's actually a problematic aspect of the photo. We're talking about two very different women from separate ethnicities, age groups and careers who've been melded into the same human, somehow.
My bet's on digital manipulation, considering how different Khloé looks from that sultry Complex shoot released mere months ago. Where are those famously powerful thighs, shoulders and derriere? The Khloé we see here is waif-like, not muscular and Amazonian.
Khloé looks feminine, soft and lovely, don't get me wrong, but she certainly doesn't look like herself. There's more than one kind of beauty, and I'd like to see it in print more often.