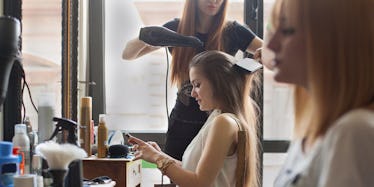 9 Things To Expect When You Get Your Hair Done At An Insta-Famous Salon
If you're like me, you've been lusting over all those beachy, bedhead-looking, perfect-for-Los-Angeles haircuts that have been all over Instagram, Pinterest and Tumblr these days.
The cuts are effortlessly chic, and they have the availability to put your entire look together and really round off your style.
As the queen of lazy, I have a hard time treating my hair the way it deserves to be treated.
I usually wait way longer than the recommended three to four months to get a hair cut and even longer to maintain my hair if it's colored.
The struggle is real, which is why as a birthday treat, I decided to treat my hair to a day of luxury at an Instagram-famous salon.
So, if you feel like taking the plunge and going to one of these drool-worthy spots, here are things you can expect:
1. You live there now.
Call the movers, forward your mail and change your billing address because your cut and color will be a marathon event.
When I first walked into the salon, I was only expecting to get a quick haircut to freshen up my look.
Upon arrival, I was informed that the coveted owner of the salon was available for a last-minute color appointment.
Obviously, I took him up on that offer.
Little did I know I would be signing up for five and a half hours of teasing, highlighting, glossing, brushing and all-around pampering.
It was a true fashionista's dream.
Just make sure to plan for it to in your schedule because you'll be living there for a while.
2. Everyone is named Ashley.
After the owner did his magic, I was left in the hands of his three assistants to get the rest of the job done.
They were all super friendly, bubbly and nice.
They were also all blonde and all named Ashley, or they at least all had names like sounded like Ashley.
It got a little confusing, but I played through.
3. It was the best cut and color I've ever received.
After what seemed like the longest five hours of my life, my look was finally complete. It was — without a doubt — the best cut and color combo I've ever had.
These people are true artists. They know their craft, and they know it well.
Now that it's over, I can't believe I ever had any other look before.
4. But expect that to come at a price.
Maybe it was a mistake finding these hair gods and goddesses because there's no way I'll be able to go back to another salon ever again, which isn't good because this place definitely breaks the bank.
By the time I was out of there, I had racked up a cool, multi-hundred dollar bill.
Happy birthday to me, I guess?
5. Everyone will be trendy AF.
I'm always weary to try new hair stylists, and this was no exception.
I was even more nervous when mine walked up to me donning a Caesar cut. (Apparently they're back?)
However, Caesar cut and all, he was still trendy AF, so I figured I was in good hands.
This place was like walking into an issue of Nylon.
Multiple people looked like F*ckJerry dopplegängers, to the point where I had to do a double take to make sure it really wasn't him.
While I'm convinced everyone there was named Ashley, they were also some of the trendiest people I've seen in a while.
And it made me feel cool, even if it was just by association.
6. They will also be super welcoming and nice.
Trendy people can have the bad rap of being cold, standoffish and unwelcoming.
However, here it was the exact opposite. Everyone was so friendly and nice.
Around every hour, someone asked me how I was doing and if I needed anything.
The entire staff were total rock stars and couldn't have been more helpful.
7. Not having cash is a major faux pas.
Bring cash. Salons don't like when you tip on your credit card.
This place didn't even let you.
Make sure you have enough cash to tip before your appointment. That's all.
8. You will feel like a model or celeb because of all the photos you will take.
Like I said, this is an Insta-famous salon, so don't think they'll let you leave before snapping some pics for the 'Gram.
A good 30 minutes of your time there will be devoted to taking before and after pictures.
If you're anything like me, you'll leave thinking you're Gigi Hadid or Kendall Jenner by the time you're done.
Hello, Vogue? I'm ready to be your next cover girl.
9. You will leave with a b*tchin' new do.
After a marathon salon session, you will emerge looking like the rock star you always knew you were.
Plain and simple, this place is Insta-famous for a reason.