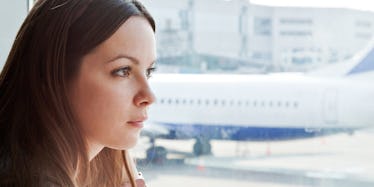 5 In-Flight Beauty Tips To Arrive Fresh-Faced After Holiday Travel
Shutterstock
Holiday travel can be one of the most stressful times of the year for women, especially when we're asked to condense our entire beauty routine down to just a few TSA-approved bottles.
Needless to say, the struggle is real.
To help take the headaches out of your travels this year, I've gone ahead and asked the pros at Studio 9 salon in Boston how to ensure you look pretty and refreshed the moment you touch down.
With a little bit of prep, we can all step off a plane looking like an international jet-setter.
1. Blow for it.
Ever wonder how celebs always strut off the airplane with perfectly coiffed, camera-ready hair?
The secret lies in a pre-flight blowout session with your stylist.
To prolong your hair high, master mane maker Lisa Cohen from Studio 9 says you should perk up your roots and pump up the volume with a bit of dry shampoo.
Cohen explains:
Dry shampoo is a wonderful tool full of possibilities that gives you tons of sexy volume, all while making your strands smell amazing.
Another great way to freshen up your hair is to flip your head upside down, douse it with a dry finishing spray and run a brush through it.
Then, flip your head back up and shake it out. You'll instantly have beautifully volumized hair.
My product pick? Drybar's Texas Tease Big Hair to Go travel kit.
2. Don't flake out.
Planes, trains and automobiles all take a toll on your skin.
In order to quench your skin's thirst, try misting your face with a gentle hydrating spray.
This will add an extra layer of hydration and act as a barrier between your face and all of that nasty recycled air.
Additionally, apply balm to your lips, cuticles and dry spots (such as your elbows) every hour.
The blam will help condition and revitalize dry skin.
My product pick? Try Crème de la Mer Moisturizing Cream.
3. De-puff with ease.
Between holiday traveling, eating and socializing, we're not looking as bright-eyed and bushy-tailed as we'd like.
To de-puff your eyes while on the plane, scoop some ice out of a cup of water, wrap the ice in a napkin and hold it on your eyes to help shrink swollen tissue and aid in reducing inflammation of the eyes.
If all else fails, try an eye mask.
Celebs swear by Chantecaille eye mask to help them walk off the plane looking rested.
4. Put your best face forward.
After sneaking in a cat nap, you'll need to freshen up a bit.
When the landing announcement comes on, Cohen suggests reapplying some hydrating mist for a pre-landing pick-me-up.
You'll look fresh and dewy.
Next, quench your skin's thirst with some more moisturizer.
Finish up your look with a tinted moisturizer and some mascara.
For bonus points, apply concealer just under your eyes and beside your nose to hide those circles.
My product pick? Too Faced's Better Than Sex travel-sized mascara.
5. Drink water.
The single most important thing to do is stay hydrated because long flights are the ultimate dehydrators.
Book yourself an aisle seat and aim for at least a half a liter every hour you're on board.
Happy traveling, gorgeous!