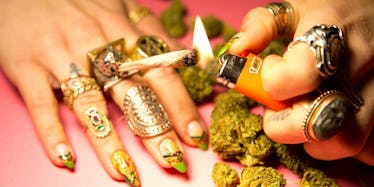 Putting Weed In Your Manicure Is 2016's Statement Beauty Trend
I'm obviously pro-legalization when it comes to marijuana.
When you look at who's spending money to prohibit cannabis -- namely the prison, alcohol, tobacco and pharmaceutical lobbies -- it should be crystal clear that this hoax needs to end. Marijuana is a plant with proven medical benefits, and it is just plain dumb that it remains illegal in many states. This is why I love finding new ways to bring it out into the sunshine, where it belongs!
A friend tagged me in an Instagram post where nail artist Celeste Marie Welch had embedded flakes of ganja into a client's hard gel manicure. I found it f*cking brilliant! As a perpetual envelope pusher, I knew I had to try this out for myself.
I called up nail artist Arielle Mosses, who recently moved to New York from Las Vegas and has been slaying the nail art game ever since. Freehand nail art is her specialty, and since she's a fellow avid smoker, so I knew she was the gal for the job.
Arielle and I agreed if I was going to wear actual cheeba flakes on my nails, it was going to have to be one stylish-ass manicure. One of the main reasons people like Arielle and me have to be on the DL about our love of weed its its illegal status. The other reason is the dated and corny taboo that belittles ganja while glamorizing alcohol and hard drugs.
The truth is we can be our true stoner selves and also be creative and driven! But for the hard-working female stoners I know, being open about your MJ use is often met with disdain and ridicule.
Marijuana users are often portrayed as cheesy, dated and generally "not cool." Given the sheer number of users out there, it's statistically impossible for us all to be lame.
For my big, green, coming-out mani, we chose a simple, clean negative space design to accent my long naturals and leave plenty of space to play with our piff.
Using a Bio Seaweed Gel System, Arielle hand-painted a dark green stripe on the hard gel overlay. The extra bright green tip is the most dope new color, I'm Sooo Swamped, from OPI's New Orleans Collection. OPI makes this color in gel and lacquer! I'm obsessed.
In a very intentional gesture, the middle finger of each hand is adorned with the affordable and gorgeous AlleyCat Jewelry 420 nail jewel. The accent nails incorporate my other AlleyCat favs, the Ninja Collection and the Regal Crown.
I wear these ornaments on my nails every day, and they look amazing on every color, but the way they look over a red, green and gold dance-hall poster wash is perfection.
Arielle attached flecks of the kind herb to the nail after the base coat and before the polish and top coat. This sealed the material in the resinous and shiny gel.
If you want to do this to your nails, you'll be delighted to know that once sealed in the gel, the material is completely odorless. So no worries about walking around smelling like Burning Man.
You'll pass undetected by humans, but maybe stay away from any German shepherds unless you're in a legal state.
The mani is much more subtle than I expected. Arielle recommends placing the flakes individually where you want them, rather than just dumping the plant onto a gel-coated nail.
So far, there hasn't been any chipping, and after a week the leaves are slightly less green but still fresh-looking. I wouldn't push it past three weeks, though, as the polish will likely discolor by then.
New Yorkers are limited in our selection of raw material, so it takes people a second to realize what's in my nails. Anyone in a legal state can blow ours out of the water by using tiny fresh fan leaves to make stripes, designs, and much more. Seriously, I'm jealous! If you do any of this, use the hashtag #cannamani to join in the fun!
These nails may have a statement behind them, but they also look really, really fly. Artists like Arielle and Celeste aren't afraid to go for it, giving clients who toke a design they can be proud of! This may not be for everyone, but it shouldn't be illegal. I sure as hell am not getting stoned from my manicure.
The very idea that the little flakes in my nails are prohibited for public use in my city is absurd. And that's exactly why I did it.