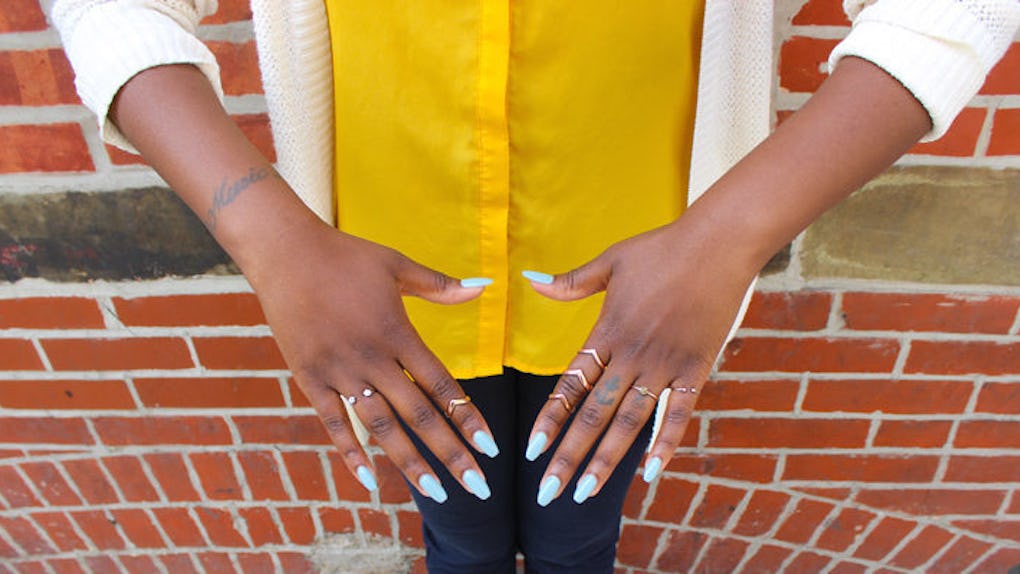 Celine Rahman
Stacking Rings Is Trending Again, So Here's How To Do It Like A Pro (Photos)
Nelly may be a sucker for cornrows and manicured toes, but I prefer manicured nails and stackable statement-making rings.
From office to nightlife to dates with bae, our daily lives call for appropriate ring swag. And although traditional stacking rings is so 2014, you can re-up the jewelry trend by mastering the art of piling on the pieces.
Whether blah or bling, these bands -- dramatic or otherwise -- could make or break your warm weather look, so awaken your inner Gollum and go HAM putting as many edgy, exaggerated rings on each finger as possible. Or, if your prefer, play up your dainty side with soft, simple statements. Thumbs included.
The options are endless: hipster, midi, vintage, knuckle, pavé, bondage rings to name a few.
Sure, you'd probably prefer to daydream about your future (or current) wedding ring, but in the meantime, make sure your ring candy is deliciously stacked.
Here are five tips that make your daily ring-stacking strategy almost as painless as Cher's virtual closet.
Size matters.
Tiny ring accents can pack a bigger punch than your gaudiest jewels. Small bands with minimal drama provide two things: a touch of simple beauty to a single-stacked finger; and they add levels to a power stack (a cluster of one or more rings) to create a solid look.
If you go gaudy, remember to do it like MJ. Two- or four-finger, costume or cocktail rings will give you a badass foundation. Add an extra dash of dopeness by accenting the bolder statements with a few first knuckle rings to the look.
Live by the rule: symmetry and simplicity.
When it comes to stacking, brush up on symmetry like it's primary school -- evenness is key. No matter how bold or simple you stack, don't eclipse the center of attention with excessive pieces on neighboring tips.
Remember this pro-tip à la Coco Chanel: "Before leaving the house, look in the mirror and remove one accessory."
Mix metals.
Fear not your love of both silver and gold. To be honest, it's okay to mix and match metals, if only for the sake of debunking pesky fashion myths.
(Like the whole "no white after Labor Day" fuss. It's still hot out! But I digress...)
Dress up your wedding ring.
What's more of a centerpiece than a symbol of everlasting love? If you're sporting fixed-piece jewelry on your finger, don't let it hinder your stackable look.
Dress it up with some accents; dainty midis do the trick every time.
Make it fit your personality.
Like Drake says: "Know yourself."
Throw on the right amount of rings to fit your personal style. If you're more gypsy than Victoria Beckham, there's nothing wrong with reflecting this in your summer ring candy.