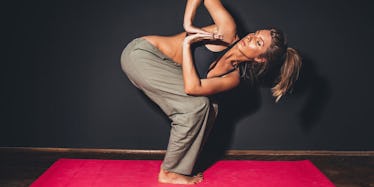 This Hip-Hop Yoga Class Proves You're Not As Flexible As You Thought
I love trends, especially the fitness kind. There's something about endorphins combined with the heady freedom of handing over my credit card for $12 sticky-footed barre socks (not once, but twice, I might add) that really thrills me.
I wish I could say the sexy mood lighting of rowing studios or the adorable Insta-branding of workout clothes didn't have any effect on me, but I'd be lying. Knowing I'm part of an exclusive 20-person group bonded by our fat cells turns me on a little bit.
Last week, I signed up for Y7 Yoga, the latest in an endless string of New York boutique studios popping up from Brooklyn to the Bowery. The studio's pitch is this: a $25, 60-minute, 90-degree Vinyasa flow done completely in the dark to Drake or Biggie Smalls. No mirrors, no expectations. Only a candlelit loft packed with at least 15 other dripping, exhausted humans just trying to make their Chaturanga Dandasanas a little less shitty.
If it sounds like a trend and looks like a trend, it's something I must try. I contacted the studio's Flatiron location and booked my spot at a class called WeFlowHard Vinyasa on a Monday after work. The studio is on the third floor, up a rickety, narrow staircase you've probably seen on Instagram without knowing it.
The stairs open to Y7's tightly-packed lobby. Every spare ledge or counter is a space from which to hang merchandise. Black tank tops carefully branded in Y7's chunky font read "Brooklyn We Flow Hard" or, if Brooklyn's not your borough, a simple prayer-hands emoji in white is also an option.
In the entryway, the groups of 20-something women arriving in straggling groups were instructed to take off their shoes and socks, piling them in cubbies before grabbing all-black mats. There, we waited in silence for the studio door to open wide, wiggling our bare toes nervously on the blonde wood floor.
When the door finally did fly open, who should come out first but "Girls" star Zosia Mamet? Her presence immediately assured me I was in the right place. Nobody loves trends like celebrities do.
We rolled in, one by one, unrolling our mats in a room with an empty white fireplace capped by a square painting that read, "A Tribe Called Sweat." Before I had time to properly process this, the teacher was in, the door was closed and I was in complete darkness broken only by a few votive candles.
Then, the music started with the rolling beat of Drake rapping about his pool compared to Kanye's. I thought hip hop and yoga might have been a jarring combination, but that wasn't the case. Like spin, the beat kept each of us on track.
We started our flow, the first of three, and I already felt stretched to my limit. I take yoga semi-regularly, but I can confidently say as a normal human who has never done a headstand, this was intense. The teacher even entrusted us to flow through each series of movements solo. My ears rang, my kneecaps dripped with sweat and I pushed myself through each painful move, digging to find the energy for my next sun salutation.
Although I normally feel claustrophobic in dark, hot spaces, I was so intent on my own movements there wasn't time to panic. The darkness kept me from seeing how my neighbor's downward dog had straighter legs than mine, which was sort of reassuring in the moment. It was clear, though, that many of these class goers were advanced yogis. Either that, or gravity didn't apply to them in the same way it does me.
Sixty minutes later, I lay on my back. Woozy and perspiring, I pulled from my water bottle and embraced the empty feeling that comes from the best workouts.
Y7 wasn't an exercise I was particularly good at, to be honest. But I'd be willing to face myself in that dark, swampy room again just to win.