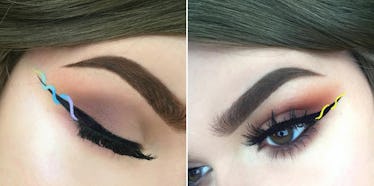 Everyone Is Obsessed With The Helix Eyeliner Trend Taking Over The Internet
Here's a definitely-not-made-up fact to make you feel better about your day: If you've already applied eyeliner, the most difficult task of the day is already over.
That is, unless you're trying your hand at the latest amateur makeup artist trend to take the internet by storm. It's called "helix eyeliner," and it's about to blow your mind.
First, beauty gurus apply the standard black liner, angling it upward and out into a dramatic cat eye. Then, using a neon paint or gel liner, they carefully trace a looping thread around the line. The resulting look creates the optical illusion that the liner is three-dimensional.
Like a particularly sassy strand of DNA, the helix playfully twists around the classic liquid liner.
Of course, every trend has to have an origin. Helix eyeliner seems to have begun with self-taught Instagram makeup artist GlowAwayMeg, who began using neon accents weeks ago.
Impressive, right?
The bright colors all come courtesy of Makeup Geek Cosmetics, a line Meg turns to again and again for unexpected looks.
This weekend, the look took over Reddit's beauty forums, inspiring plenty of ladies to try their own take on the helix look. The helix doesn't have to remain a simple line, either. It can be a snake, too.
Jumping on the helix liner trend with a twist
Even squares work.
This particular look is by Adrienne Edwards, whom you might remember for her 365 Days Of Makeup challenge:
If you look at these photos and wonder, "What the hell?" some beauty lovers are with you. After Meg's posts went viral, Redditors began to poke fun at all the attempts at the trend.
Why draw on liner, when you could just do it in Photoshop?
DID SOMEBODY SAY HELIX LINER?????????
Good joke, guys.
Now, it's time to figure out how to steady a brush long enough to create the cat eye, let alone the helix.