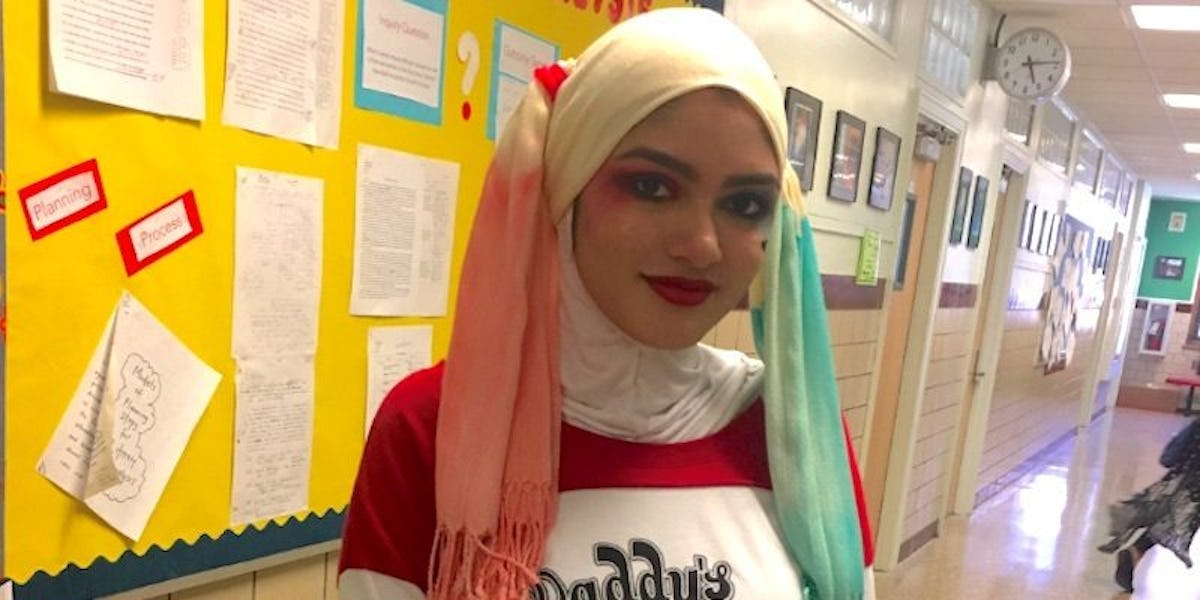 This Girl Used Her Hijab To Make The Most Creative Harley Quinn Costume
Halloween is all about imagination.
Assuming you're not one of those people who drops $60 on a pre-bagged costume that's basically made of plastic and glitter, the success of your look depends on your own brain power.
A student from Queens, New York is getting attention for just that: making the most creative costume using her hijab. In this case, she went as Harley Quinn, Margot Robbie's deranged character from "Suicide Squad."
Takiya, a high school senior, twisted her white hijab into long pigtails. She even dip-dyed one pink and the other blue.
After her friend Rayan posted a photo of the costume to Twitter, it quickly picked up traction. Rayan, whose Twitter bio proclaims #MuslimLivesMatter, captioned the image, "Who said Hijabi's can't be Harley Quinn???"
Rayan told Elite Daily she decided to post the costume in the hopes "it would go viral so people can notice and understand that a [woman] wearing a hijab is not limited from having fun and [being] creative."
The teen — who posted a few photos of her own burn-themed costume — explained she'd been inspired by her friend's costume and the way she'd used her hijab to express herself like any other teen.
Rayan continued,
From also being a hijabi myself, I understand the hardships we go through to partake in certain activities... My friend was able to use her creativity to enjoy her Halloween as a teenager having fun.
Indeed, Rayan's photos make it seem like everyone had the best day of their school year.
Takiya isn't the only Muslim to make a Harley Quinn costume werk, either.
Earlier in October, a beauty lover named Nora posted a look she called "Halal-ey Quinn." Using a navy and burgundy hijab, she owned the supervillain's look.
Both Rayan and Nora received backlash for their posts, including a plethora of angry tweets and comments packed with Islamophobia. But, they didn't allow it to slow them down.
Maybe there's hope for the world. After all, the most viral Halloween costume this year was a pair of Jewish-Muslim child superheroes who claimed their superpower was "to watch each other's backs."