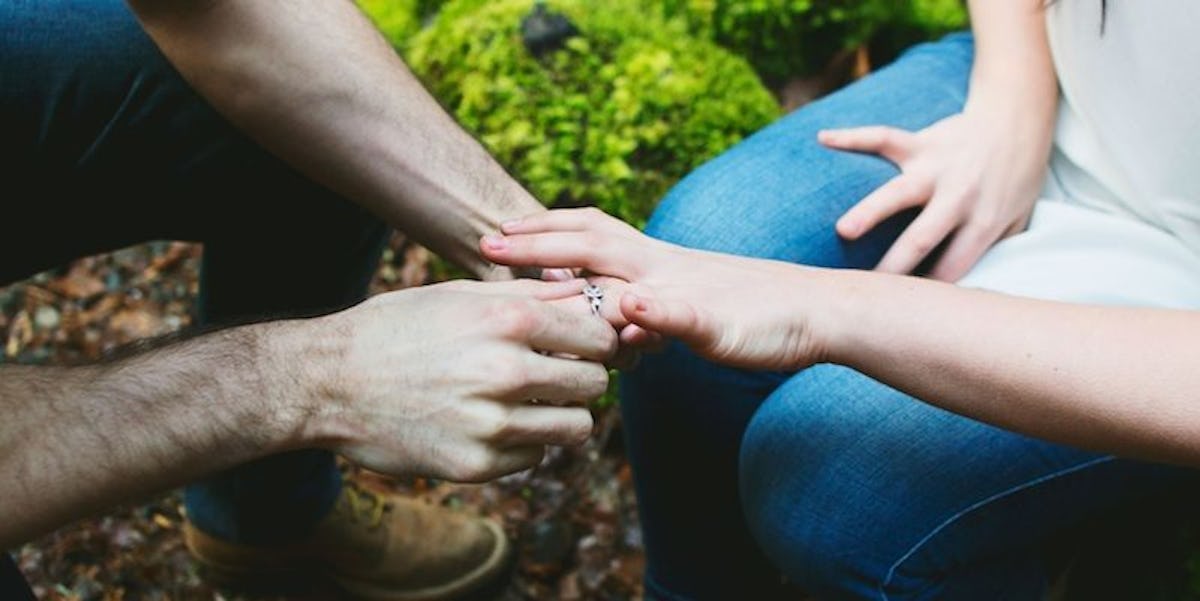 12 Real Grooms Admit What Went Through Their Heads Before They Proposed
Tana Teel
We outsiders, Facebook stalkers and Instagram likers usually see the engagement pics after they have been snapped by an onlooker and heavily filtered.
We're not there to watch the groom-to-be fidget with the ring inside his pocket or watch him stress-sweat through his gingham button down. We're not there to witness the bride break out into hysterics, screaming like she just won the lottery when he pops the question. (Unless, of course, they shot an accompanying proposal video.)
But what's most interesting to me about proposals is what the heck is going through the guy's head right before he gives up his bachelor card and commits to one person and only one person for the rest of his days on this planet, for better or for worse.
So I begged 12 real grooms to admit the final thought that floated through their heads right before the moment they asked their person to stick around for good.
1. "It feels right."
"It's going to sound weird, but it felt like the right thing to do. I thought I'd freak out and maybe chicken out. But I went to pull the ring out of my shirt pocket and everything just fell into place."
– Sam K., 28
2. "This ring is worth more than my life."
"I started to get nervous because I was carrying around this piece of jewelry that I had to ask my parents to help me pay for, it was that expensive. Probably the most expensive thing I ever bought. I literally maxed out my credit card buying that thing for her."
– Christan Y., 29
3. "I hope she says yes."
"It crossed my mind that maybe she would say no. I knew we had something special between us but what if she wanted a few more years before committing to me forever?"
– Rick P., 24
4. "What if she says no?"
"I was starting a getaway plan in case she said no. I didn't want to just stand there like a crazy person and cry if she turned me down. I figured I'd run away really fast and figure out my plan B."
– Michael C., 29
5. "I forgot to ask her parents."
"It slipped my mind that maybe I should have called her dad and asked for her hand in marriage. But I figured that was old school, so I just didn't do it, but in the moment I realized maybe I should have."
-- Tom R., 34
6. "I hope I don't pee in my pants."
"My bladder is extra weak when I'm nervous and that was the most nerve-wracking moment of my entire life."
– John W., 32
7. "Should I have planned this?"
"I kind of just figured I'd ask her casually over dinner. No gimmicks. But then I started to wonder if maybe I should have spent some time thinking more about this."
– Paul F., 23
8. "Maybe she'll be cool with eloping."
"I knew I wanted to marry her, but I was kind of hoping her first words after she said 'yes' would be that she'd rather elope than spend more money and plan a big wedding for hundreds of people."
– Henry R., 27
9. "I'm having second thoughts."
"It's a stressful moment. I maybe thought twice about doing it. I don't know. You're giving up a lot when you hand over that ring and ask that question."
– Rob T., 28
10. "I hope she doesn't find the ring."
"I planned a whole evening of stuff before popping the question. The ring was on me and I was scared it would fall out of my pocket or she'd see it before I had the chance to surprise her."
– Fred K., 28
11. "She is going to be the last girl I sleep with."
"I'll be honest, it did freak me out that this moment would mark the official end to my singledom. She would be the last girl I'd ever sleep with. That's scary, OK?"
– Greg T., 31
12. "I feel so grown up."
"First comes marriage, then comes a baby. You know how it goes. I felt like I was doing the most grown-up thing I had ever done. I was excited but also freaking out hardcore."
– Joe V., 27