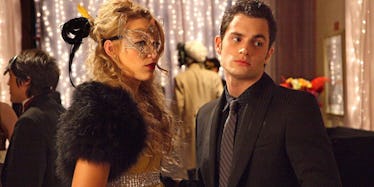 20 Things From The First Season Of 'Gossip Girl' That Would Never Happen Today
CW
No single show touched the lives of Millennials as much as "Gossip Girl." In 2007, the show about a squad of privileged Upper East Side teens appeared on TV screens and provided an early version of #goals.
Ten years ago, technology was limited and celebs like Lindsay Lohan covered tabloid pages. As teens, we fell in love with Blair, Serena, Dan, Nate, Chuck, Vanessa and Jenny. Their clothing, homes and cell phones provided my 17-year-old self with tons of inspiration.
Recently, I binged-watched the show's first season. I found myself cracking up at the outdated references and technology. Join me as I relive the magic that is the first season of "Gossip Girl."
You know you love me, xoxo.
1. In Episode 1, Rufus staples posters around Brooklyn. Dan quickly reminds his out-of-touch dad there's "this thing called Myspace, where you can post all this information online."
Today, Dan would suggest posting the info on his Facebook. Then, he'd start a Kickstarter fund to help Lincoln Hawk get back on the road.
2. Dan looks down at his BlackBerry to find a crisis text from Jenny.
I absolutely loved my BlackBerry. In fact, I wish it was still socially acceptable to use one, because texting was so simple and that little rolling ball was a blast.
Totally unrelated: The only thing I like about Kim Kardashian is the fact that she still uses her BlackBerry.
3. Blair Waldorf flips her coveted Sidekick open, revealing a shocking message that Serena is back.
The Sidekick was, without a doubt, the "cool girl" phone way back then.
Sadly, my mom wouldn't buy one for me in high school because she wasn't a direct descendent of Cornelius Vanderbilt, swimming in cash money. I settled for a pink Razr.
4. We take a look at Chuck Bass' sleek double-polo situation.
Chuck owned his preppiness.
I hate to admit it, but I collected my fair share of Abercrombie polo shirts circa 2007, even popping the collar every now and then.
5. In episode 2, "The Wild Brunch," Blair ignores Serena by reading the New York Times on actual newspaper.
Blair was all about implementing the latest technology. If this were 2016, you know that cold-hearted queen would be reading the style section on her brand new space gray iPad Pro.
6. We see the beginning of a long line of over-the-top Blair headbands that would capture the nation's hearts.
When the first season of "Gossip Girl" hit TVs, teenage girls everywhere fell in love with the ornate arsenal of headbands Blair kept in her walk-in closet. Stores everywhere stocked lookalike products, helping fans emulate the iconic character's look.
7. In episode 4, "Bad News Blair," Serena tells Blair to act out "Britney with the umbrella" to loosen up during a photoshoot.
You may recall, in 2007 Britney Spears was put on a 5150 psychiatric hold. During the pop star's "dark time," she took an umbrella and attacked a paparazzo's car in a desperate plea for privacy.
8. Serena also instructs Blair to channel "Posh Spice in America."
During the show's run, David and Victoria Beckham moved their famous family to Los Angeles. The couple taped the transition from British life to American in a one-hour NBC special titled "Coming to America."
9. In episode 5, "Daredevil," Gossip Girl wonders if Jenny will go from "Brady to Britney" after she shoplifts.
Once again, we get a totally relevant crazy Britney Spears reference. The Brady in this line refers to "The Brady Bunch," in case you never watched Nick at Night.
10. In episode 6, "The Handmaiden's Tale," we're introduced to Vanessa and her chunky, gold hoop earrings.
These oversize hoops were very popular after Brooklyn girl Vanessa was seen wearing them during the first season.
11. Then, Serena chats with some guy on what I think is AOL Instant Messenger.
As you can see, she had an intense flirt session with richboyIV.
12. In episode 7, "Victor, Victrola," Blair describes Dan and Serena's on-campus hookup session as "'High School Musical' scandalous."
In 2006, Disney came out with "High School Musical" and tweens everywhere lost their sh*t. Then, Zac Efron officially solidified his position as a Hollywood hottie.
13. In episode 8, "Seventeen Candles," Nate listens to some somber tunes on his Samsung Juke.
Remember this weird gadget? #TBT.
14. Then, Blair gets a dramatic email from Gossip Girl on this contraption.
Sorry, B, I liked it when you still had a Sidekick.
15. In episode 9, "Blair Waldorf Must Pie!" Dan shows us he's upgraded to a Razr.
You go, Brooklyn.
16. Afterward, Nate ponders texting Serena on his pop-out screen flip phone.
Note the Verizon product placement.
17. In episode 11, "Roman Holiday," Vanessa says she can't wait for her annual "Dan Humphrey Christmas CD mix."
To be fair, Dan is probably still making people mixed CDs in 2016.
18. In episode 16, "All About My Brother," Lily tells her assistant to seat Serena "as far away from Mr. Spitzer's table as possible" at her wedding.
In 2008, the New York Times reported Eliot Spitzer, then-Governor of New York, was involved in a prostitution ring. Days later he resigned.
Of course, Lily was still happy to invite him to her big day.
19. Upon finding out Jenny's boyfriend was gay, would-be villain Hazel says, "Now you know how Vanessa Hudgens feels."
Back when "High School Musical" was trendy, tabloids reported Zac Efron was actually gay. Then-girlfriend Vanessa Hudgens was reportedly merely his beard.
20. In episode 18, "Much 'I Do' About Nothing," Georgina Sparks tries to justify breaking out of rehab by saying, "At least I lasted longer than Lohan."
Just like Britney Spears, Lindsay Lohan went off the deep end in 2007, in and out of rehab so much not even the paparazzi could keep up.
I must say, revisiting the first season of "Gossip Girl" provided me with so many throwback memories I ended the season buried under a heap of nostalgia.
Honorable mentions go to Justin Timberlake's "What Goes Around...Comes Around," which plays when Serena comes home in the first episode, and any time the cast mentions Brooklyn as if it's a dangerous foreign country.