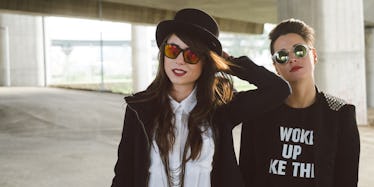 Glamour Names Sandy Hook Teacher One Of 2013's Women Of The Year Instead Of Your Typical Celebrity
Stocksy
Kaitlin Roig-DeBellis has joined the company of Lady Gaga, Gabby Giffords and Melinda Gates as a 2013 Glamour Magazine Woman of The Year. While you might not know her name off-hand, you should.
Dubbed by Glamour as "The Protector," Roig-DeBellis had been teaching at Sandy Hook Elementary in Newtown, Connecticut for five years when the tragic shooting took place on December 14 of last year.
Kaitlin courageously hid her 15 students in a tiny bathroom, keeping them calm and protecting them from the horrors outside of her classroom. While her actions alone are far more than enough to be named a Woman of The Year, Roig-DeBellis did not stop there.
In the weeks following the tragedy, as gifts, toys and books came flooding in from donations, she decided to take the opportunity to show her kids how rewarding it can be to give back.
That January, she launched the non-profit, Classes 4 Classes. The charity allows elementary school classes to sponsor educational gifts for other classes, and when a class receives gifts, they continue the cycle and pass gifts on to another class.
Kaitlin Roig-DeBellis is a true hero, not only for her heroic actions, but also for her kind heart - generating benevolence from tragedy. In addition to all of her efforts to make the world a better place and pay kindness forward, Roig-DeBellis ran the New York City Marathon under the motto, "A mile for each of the 26 lives we lost, and 0.2 for me."
Glamour could not have done it better by naming this hero one of many women on their list, but in our eyes, Kaitlin Roig-DeBellis is undeniably the Woman of The Year.
Via Glamour, Photo credit Glamour