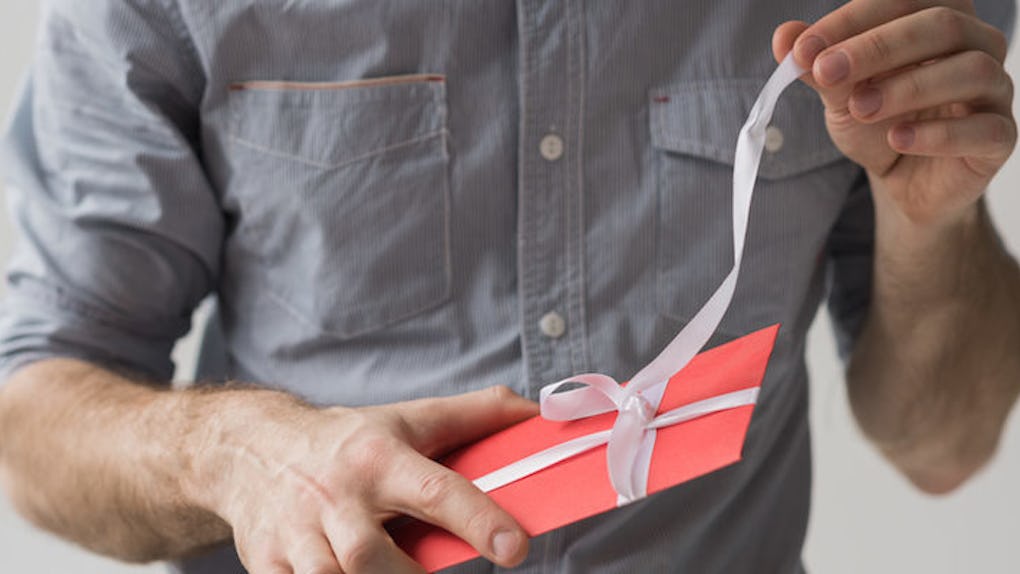 Milles Studio
An Oddly Specific Gift Guide For All The Men In Your Life
Shopping for men seriously sucks.
No matter how often I browse the hundreds of articles dedicated to helping me "find a gift he'll love," there's no way of telling if he actually will.
Just ask any woman who's been on the brink of a meltdown in the power tools aisle of Home Depot.
For women, a piece of jewelry or a Michael Kors handbag will always be a surefire win. For men, however, there's no go-to gift sure to put a genuine smile on his face.
Picking the perfect present for every type of fella in your life is mind-numbingly difficult, whether he's super-specific or the "I don't want you to get me anything" type.
Before you decide between belts or books, we're here to help.
The guy who's not your father, but totally a father figure.
Bevel Starter Kit, $90, Bevel 
You shouldn't call just any man "Daddy."
Show appreciation to your uncle, stepdad or father-in-law with a grooming kit any grown man can appreciate.
The annoying guy who doesn't want anything for the holidays.
Toast Inlay Series Phone Case, $44, Toast 
Ask and you shall receive, right?
Well, this painfully humble spirit in your life makes your shopping excursions difficult. Honestly, he'd much prefer a pair of socks over a thoughtful present.
Your best bet is to purchase something he'll always see and remember you by.
The guy who is super particular about what you buy him.
Yeezy Boost 350 "Moonrock," $200, Adidas
Brace yourself for the man who doesn't bite his tongue when it comes to his wardrobe. It's not so simple to win him over, but you'll manage.
Will he appreciate it? Sure. But if you really want to shut him up, buy him something so overly hyped-up he can't help but love it.
The gay BFF who cares about his appearance more than you do.
Frank Body Original Coffee Body Scrub, $20, Amazon
This bubbly metrosexual is not going to look to any DIY remedy for his skincare.
He's a queen, okay?
Make sure to buy him the trendiest scrubs and exfoliators to keep his skin on fleek.
The guy who's very particular about his taste in music.
Beats Solo2 On-Ear Headphones, $163-2o0, Amazon 
Nowadays, everyone wants to listen to music on-the-go. But if your guy friend sports a massive collection of curated playlists, he'd rather hear his tunes with premium clarity.
The logo doesn't hurt, either.
The coworker you're totally crushing on.
Lanton Money Clip, $75, Will Leather Goods 
Your work husband is a big deal. He calms you down before you blow up on a coworker and doesn't judge that extra slice of pizza you inhaled for lunch.
Truthfully, he deserves an award for keeping you sane. As a thank you, give him something he'll appreciate on his much-needed paid vacation.
The guy you're maybe dating, but definitely f*cking.
Carmen Hi-Waisted Black Panties, $38, Naja Lingerie
Buying a gift for yourself isn't necessarily selfish.
Unwrap your own goodies as a present for the guy who loves to try new things in the bedroom.
A gift that not only looks hot, but also gives him an orgasm is a win-win.
The guy you've friend zoned since senior year of high school.
"Modern Romance," $11, Amazon 
No matter how much you reject his advances, he's always there.
He'll never stop begging you to marry him. So, pick up something light-hearted and funny so as not to add fuel to his passion for you.
In short, this is a pity gift.
The guy who's a certified gym rat.
Fitbit Charge, $73-120, Amazon 
Help him keep track of his daily activity, even on rest days.