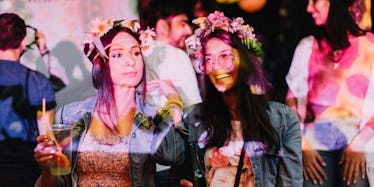 How To Pack For Any Music Festival Without Overfilling Your Suitcase
I was standing in front of an overflowing suitcase, phone pressed to my ear as my friend rattled off a checklist of items to pack.
"Brush? Dryer? Lint roller? Heels in case we decide to get a little fancy?" Check.
We were headed to Okeechobee Music & Arts Festival in Florida. It was my first-ever festival and I had no idea what was in store. Basically, I packed the entirety of my summer wardrobe: fringe, cute sundresses and giant floppy hats. I was so ready to party. Sh*t, was I in for a rude awakening.
Virtually nothing I packed made any sense. Cute sundresses are not so cute when they're caked in dirt from hours spent sitting on the ground. Floppy hats only work if you enjoy the feeling of forehead sweat.
The only thing I enjoyed wearing that weekend was a bra top picked up at Aerie. I was forced to wear it as a shirt because the scorching temperatures meant the idea of wearing actual clothes repulsed me. Everything else in my bag reeked of wishful thinking. Full-length jeans? Yeah, right, not when it's 95 degrees out.
That weekend, I learned there's a huge difference between what you want to wear at a music festival and what you can actually wear. Next time, I'll know better because of the lessons I learned the hard way.
Lesson 1: Bare as much skin as you can.
Most music festivals located in the middle of a desert are hot. They often take place in July, when it's 300 degrees outside and so humid your face melts off in five minutes of direct sunlight. Jeans just don't cut it in that climate.
Regardless, you can still look tasteful while exposing a lot of skin. Juxtapose a sexy, cropped bra top with a pair of boyfriend-fit, high-waisted denim shorts. I'm all about real leather slip-on sandals, too. Faux leather will make your feet sweat like a MOFO and stink.
You're going to be out in the sun all day, so be sure to douse yourself in as much sunscreen as humanly possible. I personally like the Supergoop! line of mists, because they don't get sticky when you're drenched in sweat. A pair of sunnies and red lip on top will always look classic.
Get ready to be comfortable, breezy and not as sweaty as your more-clothed friends.
Lesson 2: The night is cold and full of terrors (AKA drunk people).
This is where dressing for festivals gets tricky. No matter how scalding temperatures are during the day, they plummet once the sun goes down. While I was in Florida, the nights were so cold people walked around wearing blankets as capes.
Whatever you wear during the day needs to be covered up by multiple layers at night. You want to be warm, but still have a festival vibe. Instead of slipping into a pair of leggings and a hoodie, opt for a cropped knit and a pair of wide-leg jeans. Finish off the look with platform sneakers — the ones above look like something Gigi Hadid would wear.
Top off the look with witchy choker so you're warm and hip.
Lesson 3: Always pack a bathing suit.
A great bathing suit will be the hardest worker in your festival arsenal, even if there's no beach.
A bikini top can be great to wear alone when it's hot as balls out. Plus, it's waterproof, so no matter what weird bodily fluids land on you during a set, you'll be ready.
If you're not into wearing only a bikini, throw on a fringe kimono. The classic piece is just as cute as your crochet sundress, except it won't leave weird tan lines in its wake. Just be sure to stay away from silk, as the material traps heat and will make you a sweaty mess the moment you step out your hotel room door.
Pair the outfit with flip-flops and kaleidoscopic sunglasses, and you're in business.
Even though I packed like an idiot for Okeechobee, I still had a ton of fun. Next time, I won't pack more than one pair of jeans -- they're not exactly comfortable when you have to sleep in the car.