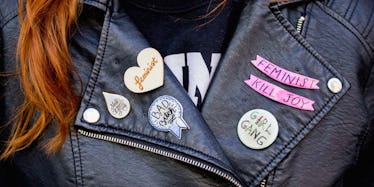 27 Girl Power Tees and Accessories For Wearing Your Feminism On Your Sleeve
As you may have noticed, we here at Elite Daily have been enjoying celebrating Women's History Month. And what's a celebration without decorations?
Hence, I've collected some of the very cutest and coolest T-shirts, tanks, sweatshirts, patches, pins and jewelry that rep the wearer's feminist ideals. Some of them are even modeled by our very feminist staff members!
Whether your aesthetic is more political novelty tees or Etsy proto-Riot Grrl patches, there's something here for every woman who believes in women's equality.
Senior Editor Alexia LaFata in A Woman's Place Sweatshirt, $34.99
Oh, and also the Oval Office.
This is Alexia's own sweatshirt, and she always gives me Leslie Knope vibes when she wears it to work. Among some of the other great offerings from Wicked:
Feminism Is The Radical Notion That Women Are People Tank, $23.99
Fight Like A Grrrl T-Shirt, $13
CreepyGirls is one of the many Riot-Grrl-inspired Etsy shops that sells shirts, patches, pins and buttons with feminist messages. The "Fight Like a Girl" design can also be bought on a patch or a button. Most of the shirts come in white, pink or black.
F*ck Beauty Standards T-shirt, $13
Pit Hair Don't Care T-shirt, $13
Senior Editor Brittany Leitner in Customized Support Your Local Girl Gang Sweatshirt, $65
At Bow and Drape, you can either buy pre-designed shirts and accessories, or customize your own using lettering and/or the site's selection of emoji, food and sparkly decals. You can also purchase other user's designs like this The Future Is Female sweatshirt, or come up with your own lady-positive phrase like the sweatshirt above (created by Women's Editor Emily Arata). And maybe add a glittery donut. Because, you know, it is possible to do so.
If you're into girl gangs in general, I've also been wearing this beanie all winter.
Catcallin' Aint Cute T-Shirt, $22
Street harassment is an issue most women deal with every day, so send a serious but still-adorable anti-cat-calling message to all the scumbag dudes out there with this mountain lion T-shirt. There's also a substantial movement in the cat community against this kind of sexist harassment. See the following:
"Don't Tell Me To Smile" Tote, $18
If we're not getting catcalled, we're getting barked at to "smile" by dudes who for some reason have a personal investment in the positioning of our faces. Send a message in favor of resting bitch face with this tote or the T-shirt version from andMorgan.
Executive Editor Emily McCombs in Feminist Sweatshirt, $44.95
Feminist Apparel is home to some of the cutest feminist-wear on the web. This is my personal go-to giant, fleece-lined sweatshirt on days I need to feel cuddly and warm while also asserting my rights as a woman. See also:
Girls Just Want to Have Fundamental Human Rights Shirt, $29.95
Pizza Rolls Not Gender Roles T-shirt, $29.95
If It Isn't Intersectional, It Isn't Feminism T-Shirt, $29.95
Feminism Slays T-Shirt, $29.95
You could spend the whole day browsing their massive selection. Most designs come as tanks, sweatshirts and T-shirts and go up to 3XL.
"Feminism Means Equality That's It" T-shirt, Sweatshirt, or Back Patch
You can buy this design as a T-shirt ($25), sweatshirt ($40), or back patch ($10) from Etsy Shop Cat Coven. It's like a visual primer for folks who still don't get it.
Associate Producer Kelley Lord in Pink Middle Fingers T-Shirt, $25
There's too much dope feminist swag on Etsy shop ModernGirlBlitz for me to possibly show it all here, but here are a few things to whet your appetite to explore the shop on your own.
Pink Feminist Symbol T-shirt, $25
Production Assistant Isabella Roman in Pink-and-Black Feminist Banner Necklace, $15, ModernGirlBlitz
Necklaces, $18-20
Smashing the Patriarchy Is My Cup of Tea Brooch, $15
Me wearing Feminist Kill Joy Sweater Brooch Set, $18, and Bad Bitch Pin (temporarily only available in necklace ($18) or earring ($10) form from ModernGirlBlitz.)
Also in the above photo: Feminist Heart Brooch, $11.72, kateslittlestore; Male Tears Enamel Pin, $11, Weird Empire; Girl Gang Button, PenelopeGazin
See also the necklace version of my "feminist" brooch for $21.98 from kateslittlestore:
Many of the designs at ModernGirlBlitz come as pins/brooches, necklaces, totes, T-shirts, etc., so check out the full range of options.
"Sass The Patriarchy" Brooch, $13
If you're not totally comfortable smashing the patriarchy, maybe you can at least sass them?
I hope you've found this inspiring! If you want to enjoy a nice refreshing beverage while shopping for your new feminist wardrobe, consider this coozy, available from Eythink for $5?