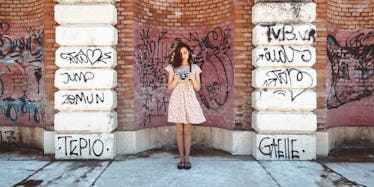 Break The Rules: 4 Ways Solange Had The Most Gen-Y Wedding Ever
Stocksy
What's better than having Beyoncé as your sister? Easy, having her as your maid of honor.
Queen Bey's baby sis, Solange wed her 51-year-old video director boyfriend Alan Ferguson. The wedding festivities took place in New Orleans, and everyone looked flawless.
According to People, Solange and Alan exchanged vows at the Marigny Opera House. Scratching the classic stretch limo, Solange was the ultimate Millennial princess, as she rolled up (literally) to the ceremony on a white painted bicycle, adorned with cream roses.
Her incredibly chic ivory jumpsuit by Stéphane Rolland with a matching cape made this unique entrance possible.
A little note to aspiring fashionista brides: Trendy jumpsuits are in and extravagant layer cake dresses are out. Also, note that the Cinderella carriage days are over. Ditch the common transportation methods (stretch limos) and do something wild (winter wedding brides, why not stroll in on a bobsled?)
It's no surprise that Vogue was the first to release the inside look on the wedding dress and official portraits. The publication quoted Solange saying, "Everyone I worked with on the wedding are friends whom I love. Everything was a labor of love."
As for the ceremony, Solange wore a floor length gown by Humberto Leon for Kenzo with an attached cape. She completed the look with Jill For Lady Grey bracelets (one on each wrist, which added an Egyptian goddess edge to the ensemble) and Stuart Weitzman shoes.
In line with the breaking the barriers theme, Solange's entire bridal party sported white along with her. Even Ferguson wore a white ensemble by Lanvin. Jay and baby Blue followed suit and wore all white as well.
Trend alert number three: Gone are the days where only the brides wear white.
According to Hollywood Life, Solange and Alan threw themselves a pre-wedding party. While this is traditionally seen as the maid of honor's job, I'm sure Bey had a lot on her plate at this time. So, Solange took it upon herself to throw her own bash, her way.
What can we learn from Solange's stylish wedding celebrations to inspire future brides to break the traditional wedding barriers?
1. The baker should not be your dressmaker
Say goodbye to dressing like a cream puff. Gone are the days when brides adorn themselves with over-the-top layers of fabric that resemble something like their wedding cakes.
Don't be afraid to take risks and dress in something untraditional — and probably, more comfortable.
2. It's not about the destination, but rather, the journey
Be creative as you plan your entrance to the "biggest day of your life." Have some fun, too. Throw guests for a loop and arrive on horseback, if you so please.
3. White isn't only reserved for brides and waiters
As the bride, you will stand out enough, considering that the entire event is mainly about you. You don't need to be the only person wearing white to prove that.
In fact, an all-white wedding creates a look that is so uniform that it's cool. And, if you really want to break the barriers, don't wear white at all! Or, have the bridal party wear white while you sport another color.
Millennials are all about breaking the traditional rules and creating new ones of our own.
4. Take matters in your own hand
Some people cringe at the prospect of being maid of honor to a bridezilla. They feel that there is so much pressure to make the day perfect that they rarely even end up enjoying it.
Instead of instilling all responsibilities in your maid of honor, be your own boss and plan your own bachelorette and pre-wedding party. Gen-Y women are a powerful breed; we don't need to rely on anyone else to get our stuff done.
Thanks again, Solange, for perfectly breaking the barriers and creating the ultimate wedding that was celebrated in style.