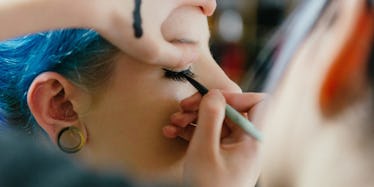 5 Eyeliners Under $10 That Are Just As Good As The Expensive Kinds
If there's one thing I know, it's eyeliner.
My makeup closet (yes, it's a closet) has an entire shelf devoted just to eyeliner and the dozens of different iterations it comes in. I got liquids and pencils a-plenty. I've got gels and markers galore!
So, imagine my surprise when my friend, who isn't a beauty geek, dropped a Prestige liquid liner into my hands.
Prestige Liquid Liner, $10, Amazon 
"It's as good as what you use," she insisted. "Maybe better. Trust me."
For the record, the liner I use is Tom Ford. I spend $56 on it every three months. When someone claims a cheap, drugstore liner can beat my fancy double-ended calligraphy tip liner, I have to take notice.
My mind was blown. The Prestige liner stayed on all night and, after I forgot to take off my makeup, well into the morning. That's the most commitment I've ever seen.
Plus, the application was seamless. It didn't drag or mysteriously smudge. It was so good, in fact, I half-jokingly demanded we hit up the nearest Harmon's and pick up 10 in every color.
It also goes to show that dropping a down payment's worth of dough on a couple of liners isn't always the best plan. I know, shocker. It took a mind-blowing liner to get me to see the error of my ways.
Don't get me wrong, the luxe stuff is still great. But the under-$10 goodies? They're just as sick.
Tom Ford Liquid Liner, $57, Nordstrom; Prestige Liner, $10, Amazon 
The Tom Ford double-ended liner was my sh*t for years. I spent many a backstage moment at NYFW arguing about the integrity of its calligraphy tip and gushing over how it stayed on through virtually every sweaty sexcapade I've had since 2013. I'm not kidding, this stuff is magic in a $56 tube.
Then, Prestige Cosmetics liquid eyeliner happened. I cannot stop raving about this product. It lasts forever, is super easy to apply and is pigmented as f*ck. I have one in every color, because it's that good.
Also, it's six bucks. That's less than the price of your morning latte with soy milk and a half-shot of caramel.
You're welcome.
Pencil Liner: Urban Decay ($20) vs NYX ($8)
Urban Decay 24/7  Glide- On Pencil, $20, Sephora; NYX Slide On Pencil, $8, Amazon 
Any girl who f*cks with her waterline understands the importance of a good pencil eyeliner. Personally, I've always stuck with Urban Decay 24/7 Glide-On pencils, because they never, ever budge. Not even a good laugh-cry can make this formula run.
When you walk into Sephora and ask for a good liner, every self-respecting associate will drag you over to Urban Decay. And with good reason.
NYX is the same quality, minus the double-digit price tag. I discovered the brand in high school when I couldn't afford anything else. Truly, the Slide On pencils are as good as Urban Decay's own.
If you're looking for a blacker-than-black shade, go for Jet Black — it's just as "kapow!" as Urban Decay Perversion.
Marc Jacobs Highliner Gel Eye Crayon Eyeliner, $25, Sephora; Rimmel Scandal Eyes Liner, $6, Jet 
Finding a great colored liner is like hitting the jackpot. That's because the great formulas usually lack pigment, and the awesome colors are often a bitch to glide onto your lids.
Marc Jacobs solved all that for me after I was gifted a pretty teal shade for my birthday several years back. It quickly became a favorite. I use it to draw attention to my inner corner and line my water line on a near-daily basis. Plus, it doesn't ever have to be sharpened.
Rimmel's Scandal Eyes might be more traditionally packaged, but it's just as richly pigmented as the OG Marc Jacobs. I wouldn't be surprised if Kate Moss actually uses this on her eyes because it's that good. Plus, it's under $5, so that's a win all around.
Marker: Stila ($22) vs NYX ($10)
Stila Stay All Day Waterproof Liquid Eye Liner, $22, Sephora; NYX Super Fat Marker, $10, Amazon 
Markers are the lazy girl's liquid eyeliner, with the pigmentation of a liquid, but the ease of a pencil. In my experience, however, they have a longevity problem. They stay on for a few hours, tops, before flaking off my eye.
Stila was one of my first favorite marker liners. It glided on and didn't leaving me looking like a sad panda. It was also, from a market standpoint, relatively affordable at $22. It's a winner in my book.
But, again, NYX blows my mind. The Super Fat Marker (along with the Super Skinny Marker) does beautiful things for my eyes. The two sizes are a great way to alternate from a kitten eye to some Cleopatra-level smolder.
MAKE UP FOR EVER Aqua XL Eye Pencil, $21, Sephora; Wet 'n Wild Waterproof Liner, $2, Wet 'n Wild 
Brown liner is so unnecessarily overlooked, like that low-key hot dude no one pays attention to on campus because he's not a jock. Black liner might get all the popular girls and the cheerleaders, but brown liner has just enough va-va-voom to get a second glance. You won't realize how beautiful it is until you work with it yourself. Trust me, you'll never go back.
I personally love Make Up For Ever's Aqua Eyes and its creamy, pigmented formula. Unfortunately, it runs at $19 a pop. I'm a writer, I can't afford that sh*t.
Wet n Wild, AKA the beauty company of your broke middle school dreams, makes the best budget formula. Its H20 Proof liner in Espresso is my jam, with a stiff tip that's so easy to use.
Plus, it's two bucks. Two f*cking bucks.