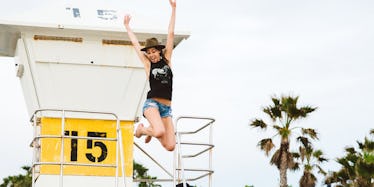 Not So Fast: Why You Shouldn't Run Away From Expensive Work-Out Wear
Stocksy
We're living in the age of athletics in which staying fit is cool enough to share on Instagram.
On any given day, you can choose between a quiet Barre studio or no-frills CrossFit box without traveling more than a mile.
So the most pressing question isn't, "How can I get my fitness in?" but rather, "What the hell do I wear to a CoreFusion class?"
The pricey sprint jacket might be tempting, but it's difficult to know whether or not a $50 version might serve you just as well.
And don't even get me started on leggings, which are just as likely to leave you with a visible plumber's crack as they are to provide support during a run.
Showing up in your old high school t-shirt and 90s breakaway pants screams, "I'm going to need help on the mat," and donning an outfit worth more than your grocery allowance doesn't guarantee you'll be able to power through the moves during a Core 20/20/20 class, either.
A little research goes a long way when it comes to spending on sportswear. With the advice of brand experts from Lolë and Cory Vines, however, we've got a new plan of attack for you.
Fitness isn't just a lifelong habit, it's a smart-buying one as well.
You're paying for tough staples to see you through any workout.
We're all guilty of shopping end-of-season bargain sales for a good deal to pack away for next winter.
But when it comes to athleticwear, more may not be better. After all, how many racerback tanktops do you really need if you're only working out four days a week?
Take a long, hard look at the work-out items you wear practically every day. It'll tell you what you should be splurging on because the pieces hanging in your closet are your go-tos.
Andy Thê-Anh, Design Director of athletics brand Lolë, recommends spending your money on a set uniform compromised of multipurpose pieces.
His must-have pieces include a perfectly-fitting sports bra (to keep the girls strapped into place), leggings, a tanktop and a straight-from-the-gym jacket for the commute home.
Swipe your credit card for high-performance items.
To the naked eye, compression shorts from a top-tier athletics brand look exactly the same as the ones you'll find at a discount store.
But when you're wondering why one pair costs twice as much as its dupe, the proof is in the fabric.
Athletic clothing is often designed from materials with special abilities, like sweat-wicking and UV protection, explains Emanuelle Renaud, Director of Product Development & Design for minimalist workout line Cory Vines.
She says higher price generally equates to more "performant" fabric, adding,
This is due to the fact some technical feature processes can last longer than others. Some fabric treatments will only last a few washes, while others will last a lifetime.
So how does this help save you from over-spending? The pieces you know will receive the hardest wear and tear, like sports bras and running leggings, should be where you spend the most -- you'll want them to keep their stretch and support long after you rip the tag off.
The other stuff, like performance tanks and tees, you can pick up for cheaper.
Pay a little extra for the smart fabric you need.
According Daniel Golden, cofounder of road apparel brand Search and State, sweat-savvy material costs more money to develop, and those production costs roll over to the price tags you see in store.
Golden explains,
Sophisticated fabrics and technologies that do everything unfortunately require a lot of R&D [research and development], and expensive yarns and do in fact make clothes more expensive.
So whether you're drawn to windproof or waterproof garments, plan to pay for those benefits.
Interestingly, clothes are the only garments to have grown fancier to fit your work-out needs.
Nicole Hardcastle, Design Director at hair accessory brand Scünci, reveals even its no-frills soft headbands – a must-have for holding back flyways – are now built with four-way stretch technology.
Some of the brand's athletic offerings even include reflective and reversible elements, helpful for nighttime runs where you'll be crossing a few streets. The shiny fabric will ensure every driver keeps a safe distance.
Extra dollars go toward personalizing your wardrobe.
If you're not training for a marathon, a luxury winter running ensemble probably isn't a necessity.
Be honest with yourself, and buy for the fitness you actually do – which doesn't count time spent staring at Victoria's Secret model workouts on Pinterest.
Experts across the board agree reading the tag is the best way to tell what kind of workout an item is meant for.
(Yes, really, you need to read the tag.) Brands work to design athletic pieces for specific uses, so most of the information you need is probably printed somewhere easy to find.
When in doubt, Renaud recommends checking with a salesperson or customer service representative who'll likely know more details about the piece.
She adds price will also be an indicator: Top-shelf items aren't likely intended for a Jane Fonda work-out tape done in your living room.
The price tag reflects the intensity of the sweat session.
Look, it's totally cool you're only hitting the gym once a week, and it's awesome you're a class fanatic who makes spin a priority five times a week.
The important thing to remember is you have to be honest about what you're doing -- or what you want to do -- before you buy. Why? Because your routine requires different clothes.
So make sure you're seeking out the perfect fabric for your workout. A pair of leggings constantly making you itch isn't made from the right material.
(And you'll draw fewer eyes at the gym when you aren't stopping to scratch like a madwoman between poses.)
If you're a budding yogi or prefer a slow burn, Thê-Anh advises seeking out garments made from eco-friendly Tencel – a man-made yarn – as well as cotton and elastane because they provide softness and stretch while absorbing sweat.
For more active exercises like running or spin, a piece mixing nylon with elastane will cradle the body without constricting it, which means you've got room for deep breathing.
And if you're big on jogging outdoors, consider items with UV protection from the sun.
You're paying for clothes you know will last for years.
Nothing is more aggravating than dropping a ton of cash on a new sports bra to find it pulling after just one wash.
As it turns out, the easiest way to wreck your clothes is by ignoring the laundry label – advice we heard from all our fitness fashion experts.
Allow your sweaty gym clothes to air out before shoving them into your laundry basket, ensuring the smell doesn't get trapped in the fabrics.
Then carefully wash according to instructions, or else risk washing away all the fancy extra features you just spent top dollar on.
If possible, Renaud recommends laundering your athletics garments in warm water as a way of killing the funky bacteria before they can make a home in your leggings. (Ew.)
And while it's important to get those items dry before your 7 am spin class, leaving them in the dryer for too long can kill their stretch.
And if your work-out clothes have to go in the dryer, make sure the heat is set at low.
When cared for thoughtfully, Renaud estimates a well-made athletics piece should last you up to two years of regular use.