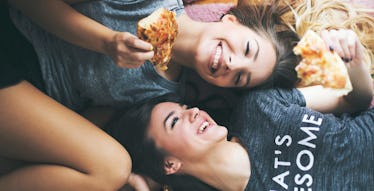 Fashion Statement Or Living Nightmare? Coat Made Entirely Of Men's Chest Hair
Stocksy
Breaking News: for the low price of $3,900, you can own a coat made entirely of men's chest hair! As if we weren't haunted by carpet chests already, now we're expected to spend thousands of dollars to snuggle up in one million strands of real men's chest hair.
Honestly, you would have to pay ME $3,900 to even go near one of those. Apparently, this "innovative" coat was made by a UK dairy company, Arla, in order to promote chocolate milk geared towards men in their 30s and 40s. I'm sorry, but I just don't see the correlation here.
According to The Huffington Post, the company is trying to promote the message that men should hold on to their masculinity by being proud of their chest hair.
So…how many men did they have to shave in order to make this? Guess that plan backfired. Get yours now ladies, they're trendy as f*ck and will most likely make you lose your appetite forever…great diet plan.
Via Huffington Post, Photos via Digital Spy