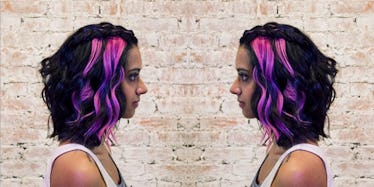 The Easiest, Best Hairstyles For Short Hair That Are Always On-Trend
Chic, phresh-off-the-runway hair doesn't have to be restricted to long, Blake Lively locks. Short-haired gals can get in on the fun, too — just look at Emma Watson and Nicole Richie's ever-changing manes for some hair inspiration.
Don't think you're simply limited to wearing your hair straight or curly. There are many ways to get your locks flashbulb worthy with minimal effort. Hear that? It's the sound of lazy girls everywhere cheering you on.
For some major short hair envy, we partnered with RPZL, the first hair extension and blow out bar in New York City, to come up with three easy, DIY-ready styles. Check out our tutorials below.
What you'll need:
Clips for sectioning hair
Colored extensions (optional)
Straightening iron
Curling iron
Dry shampoo or hairspray
Pins for securing braids
1. Add a pop of color to sleek & straight hair:
Step 1. Part your hair while sectioning off a portion with a clip. Don't forget to tease before. It keeps the look from falling flat.
Step 2. When adding extensions (we used the shade Lavish Lavender) remember that by teasing the hair, you help keep the telltale tracks from showing at the hairline. Pin it as close to the hairline as you prefer and trim it according to the length you think looks best.
Step 3. RPZL stylist Tiffany Watts recommends using a dry shampoo or hairspray to add a bit of volume. But she cautions, "You don't want hair to be too bulky."
2. Use a curling iron for textured waves:
Step 1. Using your favorite curling iron, curl your hair by wrapping it around the wand. No need to fret if the curls look a little too perfect, you can mess them up later.
Step 2. Flip your hair forward to give it a bit of body and bedhead texture. Seriously, just run your fingers through it and mess it up. Tame any crazy pieces, but for the most part, let it run wild.
3. Create side braids that look super complicated, but really aren't:
No steps needed: You know how to braid, right? Good. Just make one small braid on the right side of your face and one large braid on the left, incorporating the extension. That pop of color will never fail to be super pretty.
See for yourself: