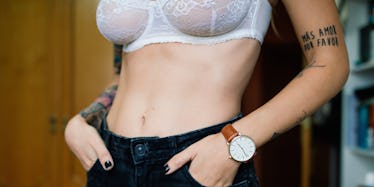 How To Dress Your Big Boobs For Fall So They Don't Look Like A Grandma's
If you're a woman with big boobs, every season presents a different challenge.
In summer's heat, you're tasked with disguising underboob sweat stains that look like sad parentheses around your cleavage. But once the weather cools down, the situation doesn't get any better.
Cable knit sweaters might be so comfy that they're basically pajamas of the gods, but that doesn't make them flattering. Often, cold-weather clothing means burying your breasts alive under layers of cotton and wool.
To paraphrase Beyoncé via Warsan Shire: Rest in peace my cleavage, which I took for granted. Those most bomb breasticles begin to look like droopy piles of snow, the kind left melting on sidewalk corners around April.
To survive the winter months without looking like you suddenly have planet-sized breasts that rest somewhere around your hips, (no offense, Grandma!) stick to layers and strategic color use.
At work, try a fitted sweater to flatter your big boobs without going into HR territory.
Avoid: Baggy sweaters and boat neck shirts.
Work is a toughie for the bosom-blessed because not burying your curves often means showing off a little more cleavage than is appropriate.
Instead of wrangling your breasts into a v-neck dress or risking button-into-eye injuries with a blouse, choose a lightweight turtleneck sweater. Even a mock neck will do, especially when paired with a push-up bra. Camouflage your girls in plain sight.
Balance it all out with a structured, high-waisted skirt that employs on-trend colors or details like lacing to bring the eye downward. Finish the outfit off with a sleek ballet flat or loafer.
On date night, trade sweaters for silk and a warm coat.
Avoid: Sweater dresses.
I live in New York, the land of walking until your feet literally crumble to dust like "The Mummy" and waft away in the wind. Thus, any date-night outfit still has to be comfortable.
In this case, we're talking a mid-length or knee-length slip dress in a luxurious fabric, like silk. Lace details and a V-neck give off a little sex appeal, while sweater dresses err more on the side of Auntie June heading to 8 pm bingo.
Pairing the style with a warm, oversized coat ensures you'll be warm and still in possession of boobs to woo any romantic interest.
Finally, finish the outfit with a pair of minimalist sneakers.
At the bar, a bodysuit is your best friend.
Avoid: Underwhelming camisoles and t-shirts.
Say what you will about the Kardashians, but I'll forever worship them like demi-goddesses for their role in popularizing the bodysuit. There's no tucking it in, no worrying about extra fabric and, most importantly, no buried breasts.
On a Friday night out, try a neutral-colored bodysuit tucked into a pair of similarly-colored jeans.
Top the whole thing off with a fashionable bomber jacket that's as wildly customized as you'd like. The oversize jacket paired with a fitted base layer says, "I've got quite the body under here, but you'll have to come closer to see it."
For a weekend brunch, keep it bright and bold in a crew-neck sweater.
Avoid: High V-necklines and, for the love of God, cowl-neck sweaters.
OK, we're at the finish line of the week: Saturday morning. On chilly days, you'll want to look good without putting in too much effort before you've even had that eggs Benedict. I recommend stocking up on an assortment of lightweight, fitted crew-neck sweaters in bold colors.
The neckline is high enough that it'll flatter your big boobs without making them look any larger (or lower). Jeans and boots finish off the look in a casual style. It may be fall, but that's no reason to let your sartorial sense hibernate until spring.