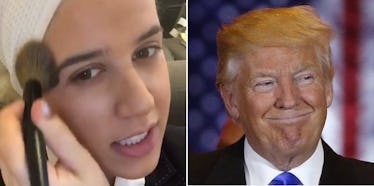 This Beauty Editor Does The Best Donald Trump Makeup You've Ever Seen
I'm not particularly political, but there are two things I feel very strongly about: gay rights and Donald Trump. For me, these two subjects are on polar ends of the spectrum for passionate positivity and negativity, respectively.
I spend a lot of my days scrolling through photomontages of gay weddings and crying. I also will click on anything to do with Republican frontrunner, Donald Trump (yes, it makes me nauseous to say that, but whatever).
So, when I came across this hilarious video from writer, beauty editor and activist Christina Grasso, I literally almost peed my pants.
In the caption she warns: This is about tanning, no politics please.
I mean, she is a beauty editor after all -- of course she loves makeup tutorials. At first, one might think she's simply showing viewers how to properly apply bronzer when you're literally as white as a ghost (Grasso is as pale as the day is long).
After about 10 seconds, though, you realize what is actually happening in this video. I almost choked on my seltzer when I figured it out. She is doing her makeup to look like Donald Trump, right down to the tanning goggle outlines.
And, you guys, she does a really amazing job. I'll be damned if you don't think this poodle-haired beauty editor and Donald Trump aren't long-lost twins by the end of this short video. She even gets the hair down pat.
I think I have this year's Halloween costume all figured out.
Watch, enjoy and laugh hysterically. Happy, happy Thursday, my children.