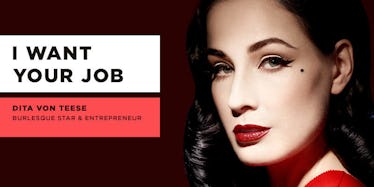 I Want Your Job: Dita Von Teese, Burlesque Star And Entrepreneur
Ali Mahdavi
If Cinderella was the ultimate heroine for an era in which women aimed to lock down a Prince Charming and put a ring on his finger, then burlesque star Dita Von Teese is the sex-positive, Millennial update to the fairytale.
Born blonde Heather Sweet in West Branch, Michigan, Von Teese has spent the last three decades of her career creating a performance style based on slow, intimate striptease wherein every gesture is loaded with sensuality. The former stripper who started out in fetish and tightlacing has expanded her brand into lingerie, books, eyeglasses and perfume.
Von Teese, often called the queen of neo-burlesque, has made the eccentric and the fetishistic interesting. And, she's done it all from behind the bejeweled glass of the oversize martini glass that's become her signature.
I speak to Von Teese, 43, over the phone. She's in Los Angeles, but the practiced smoothness of her voice leads me to believe she's more likely to be lounging in silk pajamas then talking on an iPhone in line for green juices, or whatever it is they do there.
Like all great stories, Von Teese's begins with a pizza parlor she worked at as a teenager. She wasn't employed there very long, swapping greasy cheese for delicate lace at the lingerie shop across the street.
"As soon as they gave me that job in the lingerie store that was it, and I worked in lingerie for probably close to a decade," she says. "Lingerie made a big impact on me. For me, it signified womanhood and a rite of passage of being a woman. That's something I always wanted."
As time went on, however, silky underthings weren't enough. Von Teese picked up a side job at a department store makeup counter.
"I set my sights on beauty not long after the lingerie, a natural stepping stone to 'being a lady,'" she remembers.
Von Teese was dating a club promoter at the time, and soon found herself drawn to nightlife. Going out led to go-go dancing, which led to sewing her own costumes and getting as avant garde as she could. By age 18, Von Teese dyed her hair black and started dancing in a Los Angeles strip club.
Soon after, Teese took her passion for all things glamorous and got serious about it. She remembers posing for fetish and pinup photography after seeing iconic photos of Bettie Page.
"I was like, 'Hey, I'm going to make pictures like that. I'm going to make bondage and pin-up pictures, nobody's doing that,'" Von Teese says. "Then I wanted to make burlesque shows because I'd found out that a lot of the models that were pinups in the 1930s and '40s were also burlesque dancers."
Von Teese chats about the famous "risque ladies" of the past like old friends. They practically are, after so many hours spent researching their style and acts.
For a time, she balanced the demands of two daytime jobs with photoshoots and professional dancing, but finally began pulling in enough steady income to make the leap.
"Eventually, I decided that I could make enough money to support myself by dancing and taking pinup photos. I started a website ... one of the first adult websites on the Internet in the '90s," Von Teese says.
There wasn't much to the operation at the time, just Von Teese and a fax machine.
"I had a fake name and I was my fake manager. That's how I ran my business, and I was good at it," she says. "I've never been that person who's like, 'I just have to do the creative. I'm just a star.' That's not how my life is or ever was."
Whereas Cinderella hungered for romance and a man to sweep her off her feet, Von Teese just wanted recognition. And it came, in the form of the cover of Playboy magazine's Gala Christmas issue.
"This is back when Playboy was a big deal still and there were movie stars on the cover of Playboy," she says with a hint of a laugh.
By then, she'd begun dating goth-rock superstar Marilyn Manson, whom she married in 2005 in a wedding covered by Vogue. Two years later, though, the couple divorced. In an environment like Hollywood, focused on digging up gossip, Von Teese is surprisingly kind. During a recent TV taping, she told host Khloe Kardashian that Manson "encouraged [her] eccentricities" in the best way.
Near the end of the divorce, Von Teese was a star. She famously befriended shoemaker Christian Louboutin, who makes her custom pointe shoes, and opened the Louis Vuitton Paris store by performing in a champagne glass. She's since traveled across the world, serving as a spokeswoman for Cointreau and MAC Viva Glam.
Fame is important to Von Teese, but it hasn't turned out quite as she expected. She recalls a book signing in London where she was taken aback by the amount of women waiting to meet her.
"I was totally amazed that there was a different audience for me than what I had expected when I first started doing this," Von Teese says. "It was like a modern feminist moment. It wasn't a bunch of guys waiting to meet me, it was all girls."
That brings us to the modern-day cult of Dita. Her influence is evident in pinup photography studios, budding burlesque stars who perform for tips in every major city and, of course, the reemergence of nostalgia for old Hollywood style. Von Teese's half-moon manicure, silky waves and cat eye — largely self-styled — are legendary.
"I can't look like the Victoria's Secret supermodels, I can't look like the Sports Illustrated swimsuit issue. I'll never be like that. So, I had to look somewhere else," Von Teese says of her dedication to creating the woman she wanted to be. "I kind of had to make my own way and decide what burlesque dance was going to look like and what I was going to do. That helped me a lot in being unique."
Von Teese created her style before Internet archives made Gypsy Rose Lee clips readily available. Neo-burlesque, with its feathers and Swarovski crystals, is very much a product of the star's creativity. She welcomes different influences.
"There's a such a big, new, modern feminist movement in burlesque," she affirms. "The biggest stars of burlesque, they're diverse beauties with different body shapes or ethnicities and different types of people. Not even just women."
Earlier in March, Von Teese opened her sixth show at the Crazy Horse Paris, a 1950s cabaret that's seen the likes of John F Kennedy and Salvador Dali. She was the club's first ever guest act, and brings a mix of new routines and old to its historical stage.
While there, she'll wake at 1 pm in order to be at the theater by 5. She'll go on around 10 pm, and won't be done until midnight. Some evenings, Von Teese will perform up to three shows.
In one notable number dreamed up by close friend Ali Mahdavi, high-tech mapping technology is used to create virtual costumes on Von Teese's body. It's the first time she's ever been entirely naked on stage, she tells Vogue afterward.
Here's the key difference between Cinderella and our modern-day heroine. When Cinderella goes to bed like a good girl, Von Teese is just beginning to wake up. She'll strap on a pair of garters and head out, sequined pasties in hand, ready to conquer the night.