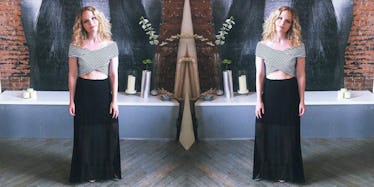 A Trend For Every Body: Yes, You Can Rock A Crop Top, Here's How
Crop tops are like that girl everyone is kind of afraid of but secretly wants to be friends with. Sure, she's super cool and looks nice, but something about her confidence is intimidating.
It doesn't help that crop tops kind of get a bad rap. They're associated with festival goers and low-rise shorts, which — for the record — isn't how you're supposed to wear crop tops.
They're not designed to show off tons of skin. A couple of inches is usually more than enough; an entire belly (no matter how toned) borders on vulgar. Keep the beachwear at the beach.
However, with the recent backlash against women of all shapes and sizes (looking at you, Herve Leger and O, The Oprah Magazine) the Elite Daily ladies have teamed up to show that it doesn't matter what your body type is, you can rock the sh*t out of a crop. The trick is just finding one that works for you.
All black, everything.
Keep balance in mind. If you're showing off your midsection, don't go for an extreme low-rise or an open back (unless you're going to a club, of course). The collar adds a badass touch, and those Docs are proof that heels are stupid, anyway.
A bit of skin goes a long way.
If you're self-conscious of your midsection, pair a crop top with a high-waisted skirt. Keep proportions in mind: a tighter-fitting crop will call for a bit more volume below the waist. Also, a sliver of skin will always be sexy.
Stay ladylike.
Girl, rock that miniskirt. You can go for a shorter hemline if you're balancing out the look with girly details (in Leeor's case, it's all in the pleats). The long sleeves also make the look more dinner date-appropriate and less "party in the club."
Go geometric.
The criss-cross of the top adds a fun visual element to the look and downplays the sheerness of the skirt. Again, this is a lesson in proportions: the badass-ery of the top makes the rest of the look appear demure but still sexy.
Play matchmaker.
A bit of matchy-matchy will get you serious fashion street cred. Instead of letting the florals take over, Zara kicks it up enough (no pun intended, promise) with a pair of chunky wedges.
No dainty heels here — and that's a good thing.
How low can you go?
A pair of super f*cked up jeans are hot on their own, so pairing with a crop top can look a bit like overkill. Instead, make like Tay Tay and opt for a crop that hits below your belly button.
Add even more cool factor to the outfit and rock some white kicks.
Pajamas are always a win.
Pajama-y satin pants aren't just good at hiding your food baby, they add a relaxed vibe to the look, and the sequins keep it dressy enough for post-work drinks.
Also, don't be afraid of your bellybutton, it's there for a reason and it doesn't mind saying hello every now and then.
Boho is always a win.
The great thing about some crops is that you don't have to show any skin at all if you don't want to. Pair your flowiest crop with a pair of high-waisted flares and look like the chicest babe in all of Woodstock.
Colorblock like a boss.
Fact: red is hot. Pair it with a black crop, and you're basically going to be the hottest girl at the bar, hands down. Also, the triangular sliver of skin is unexpected and sleek, all at once.
Don't forget white.
Striped or black crop tops are supposedly designed to be "slimming." Screw all that and go for an all-white look with a sleeveless button-down and eyelet skirt. You don't follow the rules and that's why we love you.