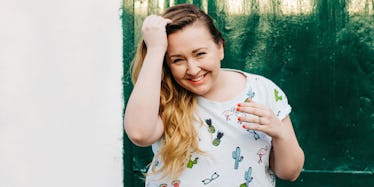 How To Wear Crop Tops This Summer, Whether You're Size 8 Or 18
The moment crop tops became a thing several years ago, I got angry. To me, it was yet another trend that only women with flat stomachs can partake in. I moved on.
But, my attitude has since changed. In the last year, I went from fearing crop tops to downright adoring them. It's not that I lost a spectacular amount of weight or anything, but I just found myself gravitating more and more towards the crop.
I began to learn that wearing a crop top doesn't mean baring it all. When I pull mine on, I barely show more than a sliver of skin — and that's fine, too. As with anything you wear, crop tops are all about comfort (and, duh, looking like a badass.)
If you're still wary of the crop, take some tips from the ladies below.
Get matchy-matchy.
Fact: Loud prints give off the illusion that you're way more awake and alive than you truly are. This floral print is cute, especially as high-waisted pants and a tailored, wide-sleeve top that create a long, streamlined silhouette.
Also, the top's hem cuts off at the smallest part of the waist, which allows for a universally flattering peek of skin.
Try out: Printed Tie Hem Top, Eloquii, $60
Create your own fit-and-flare.
Pair a fitted crop top with a voluminous skirt for an instantly flattering silhouette. A flash of the smallest part of your waist also adds a hint of sex appeal to the otherwise girly look.
Try out: Floral Crop Top, Torrid, $25
Hug those curves.
Don't immediately reach for boxy tops — a fitted crop can be super sexy. It will also work wonders either alone or paired with a leather jacket. Pair with a curve-hugging mini skirt because, well, why not?
Try out: Crisscross Bralette, Forever 21, $10
Look for a fitted silhouette.
Girls who feel self-conscious about their upper arms or back might be uncomfortable in a form-fitting top, but this one draws attention to all the right places with a bold geometric print.
Pro tip: Stay away from anything too oversized, as it will only add volume to your bust and waist.
Try out: Metallic-Flecked Crop Top, Forever 21, $13
Make it work-appropriate.
Crop tops aren't restricted to the beach. Pair a tailored top with a high-waisted wrap skirt for a look that goes from desk to happy hour drinks.
Try out: Floral Crochet Top, Ashley Stewart, $28