This 360-Degree Brush Is The Craziest Thing We've Ever Seen, But It Works
Brit + Co
When my fellow editor and partner in beauty, Beth Wischnia, gave me this brush and said, "Um, yeah. Figure this out!" I was like, "...WTF is this brush?" When it comes to strange hair devices, we're always on board to give them a try so we can report back to you.
Rather than looking up a tutorial on how this brush works, I decided the best way to give it an authentic go was to use it just as I would use any other brush, without changing up my routine or wandering too far out of my comfort zone.
We've already shown you how to give yourself a blowout. Will this strange new hairbrush be the next new tool to add to your blow-drying bank of goodies?
Prep: Wash, Dry, Then Add Styling Products
Leave-In Conditioner
Start this look off by using a leave-in conditioner. I'm using Giovanni 2Chic Ultra-Luxurious Leave in Conditioner in Cherry Rose ($7) because it's lightweight, super hydrating, helps with frizz and split ends and acts as a heat protector. Oh yeah, and it smells insanely delicious.
Heat Protector
Even though the conditioner has a heat protector built in, I really like to make sure I'm doubling down on this front since I bleach my hair to lighten it. This Schwarzkopf Styliste Ultime Crystal Shine & Hold Heat Protection Shine Spray ($7) tackles this problem and leaves my hair with a subtle shine without taking away from the volume. Apply a small amount throughout the mid-shaft to the ends of your hair. Avoid your roots so you can get the most volume with the next product.
Volumizing Root Lifter
Speaking of volume, you'll want to use a root lifting agent like Schwarzkopf Styliste Ultime Biotin+ Volume Mousse ($7), which was developed for fine, brittle hair. I love the volume and texture this product delivers. Apply a small amount to your palms, rub together and then disperse throughout the roots of your hair.
Finishing Shine Spray
Once your hair is dry, it's best to add a final texturizing product to help your hair look a little more piece-y and finished. For this look, I'm using the Schwarzkopf Essence Ultime Diamond Color & Radiance Shine Boost Tonic ($7). Instead of spraying it all over my hair, I apply it to my fingers and then use them to piece out the mid-shaft and ends of my hair. This particular formula works great with my lavender locks.
The Brush
This Lucky Trendy 3D Bomb Curl Brush ($20) is designed to allow a 360-degree way to brush, flip and shape your locks while you blow dry. As I mentioned above, I thought the best way to really test this brush out was to use it the same way I would in my normal blow dry routine and see if I noticed anything different in the process or results of the blowout. Here goes nothing.
Begin At The Roots
I like to start out by using my fingers to lift the roots all around my head directly upwards, while blow drying them on a higher heat setting. This will help set a foundation of volume in your hair.
Blow Dry Base to Top
I have to say that my first experience using this brush was super weird. I wasn't at all convinced that this device was worth the struggle of manipulating it. It felt really strange to be able to flip the brush in any direction, at first.
The Results: WTF?!
It literally didn't hit me that this brush is insanely awesome until I looked in the mirror. My hair had SO. MUCH. VOLUME. Seriously, my mind was pretty blown. I then realized that I was borderline in love and was willing to try to practice using it until I got more comfortable because of how much oomph it gave my 'do.
The Final Look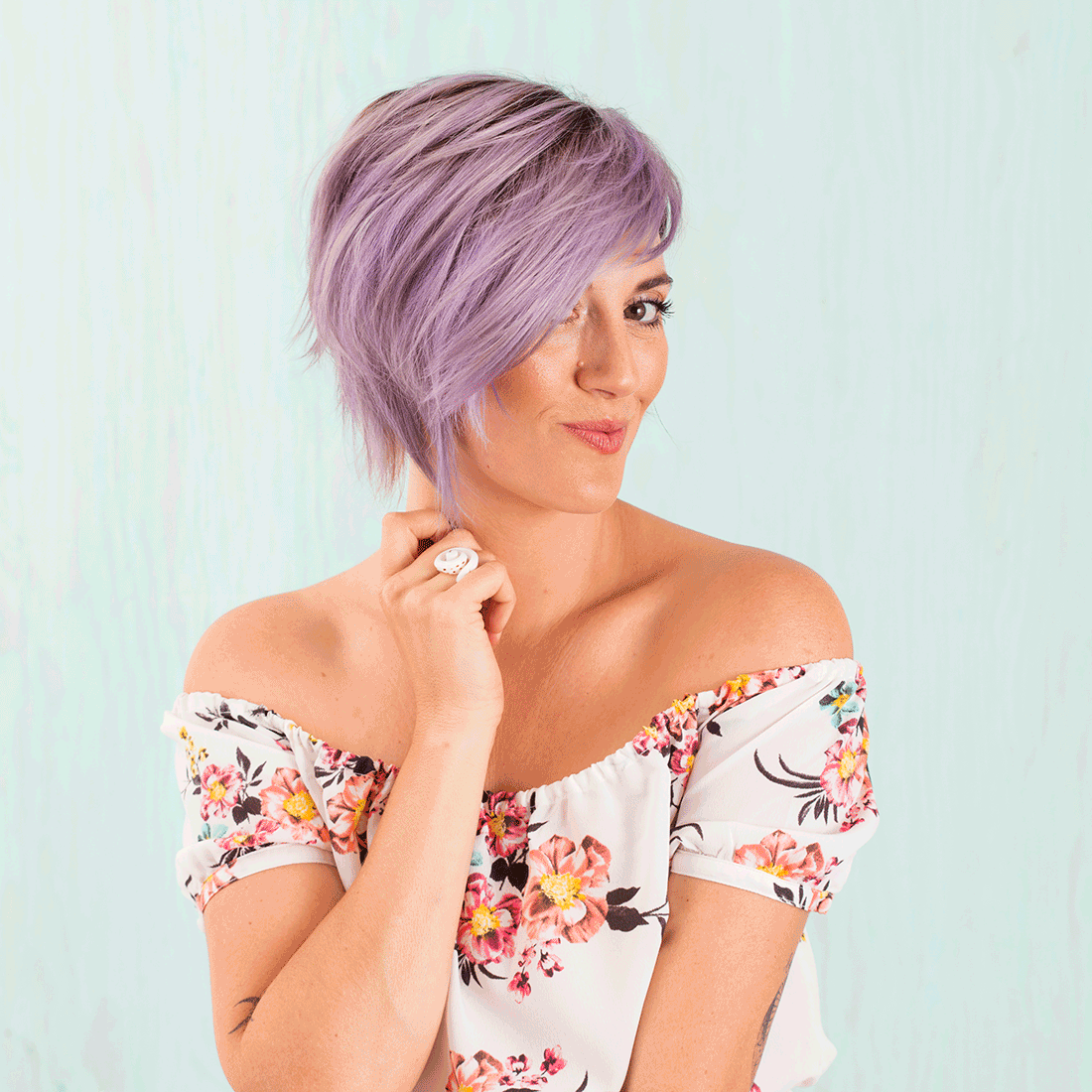 I'm. In. Love.
I'd love to see what gals with longer hair think about this brush, and I will have to pass this on to some other women in the B+C office to get some feedback. As for me, with my short hair, I will officially deem this brush a major game-changer. #Winning.