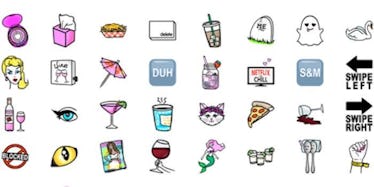 I Used Cosmo's New Emojis To Pick Up Guys On Tinder, Here's What Happened
Old-school emojis are just so restricting. I mean, who wants to send a plain smiley face or an ironic thinking face when there's a whole world of incredibly specific emojis out there?
Take cheese fries, for example. Cheese fries deserve their own emoji. What else are you supposed to send your "drankry" (drunk, angry, hungry) friends when it's 4 am and your go-to pizza place is closed?
Luckily for me and my drunk texting tendencies, Cosmopolitan just created its very own set of ubiquitous emojis, dubbed — wait for it — Cosmojis.
They're obviously targeted toward group chats with you and your squad, which is totally cool. I, however, wanted to take it up a notch, so I decided to use them to pick up dudes on Tinder. I mean, there is a swipe right emoji and a GIF of an unhooked bra, so what did anyone really think I'd use it for?
Unfortunately, Tinder isn't compatible with emojis, but I worked around that by indiscriminately swiping right and giving guys my number. Then, only using Cosmojis, I tried to schedule dates. Or, at least, get a guy to totally fall in love with me and sweep me off my feet. Sounds easy enough, right?
Spoiler alert: I'm still single.
This guy took things literally.
But this one was down.
This one made it … weird. Really weird.
He stopped responding after that.
He played along... or was just really hungry.
Low-key soulmates, maybe?
This one made me feel like a monster.
The cats really did it for this guy.
This guy brought his A-Game.
And this guy actually asked me out.
Does this mean I win? Do I get a prize? A lifetime subscription to Cosmo?
Was I actually able to set up a real life date with anyone? No, not exactly. But it's not like I'd go on a date with anyone I was able to woo exclusively using boxed wine and "DUH" emojis, anyway.
Then again, maybe my standards are too high.