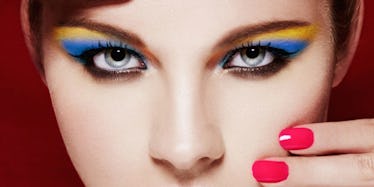 Color Block Eyeliner Is The Latest Makeup Trend To Spice Up Your Summer Look
REX/Shutterstock
A while back we gave you a glimpse of the adorable bubble eyeliner trend. But if you're already sick of decking your lids out in scalloped liner, you'll be glad to know that there's a new beauty trend heating up on social media.
Apparently, color block eyeliner is the must-try makeup trend this summer and, I have to say, these eye-catching lids actually look cool AF. Now, if you're wondering what the heck color block liner is, let me fill you in.
This fun style ditches the boring old black liners and monochromatic shades of makeup for some color-contrasting lids.
To achieve this mesmerizing look, all you have to do is line your lids in two different shades of highly-pigmented hues.
There's no wrong way to do this bright winged liner and so far, we've seen ladies sporting this bold style in every color combo imaginable. Take a look at the pictures below to see this stunning color block eyeliner trend.
If you're looking to step up your beauty routine this summer...
...you'll be glad to know this new trend is heating up on social media.
Behold color block eyeliner.
This eye-catching craze adds a pop of color to your peepers...
By ditching the boring black eyeliner...
...for some lids lined with bright contrasting wings.
So far we've seen everything from mod mermaid makeup...
And pretty purple peepers...
To contrasting cat eyes...
Pretty pastel pairings...
...and gorgeous gilded wings.
 There's no wrong way to get in on this flawless two-toned trend...
...so grab some liners and start experimenting.