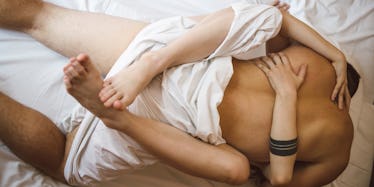 This One Thing In Your Bedroom Can Change Your Sex Life Forever
I'm a huge fan of toys. My nightstand is home to an army of vibrators, handcuffs, ties and other objects designed for hanky panky pleasure.
The sexiest tool you have in your naughty repertoire, however, isn't battery-operated or made out of silicone.
In fact, you probably already have a couple of these in your bedroom.
That's right, ladies: Pillows are about to take your sex life from "okay" to "orgasmic."
Nope, they're not just for sleeping on and using as a cuddle buddy.
We touched base with Megan Stubbs, certified sexologist and relationship expert, for tips on incorporating our favorite bed accessory into something a little more frisky.
It's great for solo play.
Even if you're not cuffed this season, you can still reap the benefits of your pillow.
"You can use one or more to support your legs while masturbating," says Stubbs. "The added support can help alleviate some aches or stiffness in your spread legs if you're going on a marathon session."
It's a smooth ride to G-Spot town.
If you've never felt the ever-elusive and mythical G-spot orgasm, you're in luck. Pillows make it easier for your boo to get the angle just right.
Stubbs suggests adding a pillow under the small of your back to increase the angle of penetration. This will make it easier to hit the spot.
It will save your knees during head.
There is no worse feeling in the world than going to town on him and barely being able to keep your composure because your knees are about to give out.
Instead of just bearing it, throw a pillow under your knees while your man slides to the edge of a couch or the bed. This position will also leave you with your hands free to do all sorts of other exploration.
It can take doggy-style to new heights.
As we all know, doggy style is a favorite position for both men and women. It's also one of the most grueling.
"Use a stack of pillows to lean over during doggy-style sex," recommends Stubbs. "The support from the pillows can take some of the weight off your upper body and give you a comfortable place to rest."
You can also add a couple more pillows to adjust the angle of penetration, which will only lead to a better time.