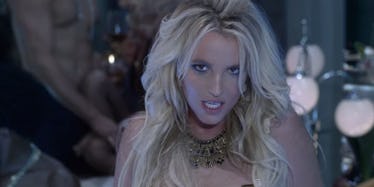 14 Britney Spears Music Videos That Taught Us Unforgettable Style Lessons
RCA Records
Nearly two decades into her career, Britney Spears is more than just a pop star. She's queen of my heart, a diva so flawed and simultaneously flawless she's earned the Internet nickname "Godney."
In that time, Spears has become as widely known for her elaborate music videos as she is for her always-wonky blonde extensions and 2013 comeback. There's the sweaty, post-apocalyptic grindfest that is "I'm A Slave 4 U," the raven-haired stripper Britney of "Gimme More" and the Marilyn-esque sad starlet from "Lucky."
I've been tuning in to Britney Spears music videos ever since she seductively twirled that basketball in 1998. Brit is one of the only artists who's just as famous for her elaborate videos as she is for her singles. Here are 14 unforgettable lessons I've absorbed from watching Britney bump and grind.
1. There's no piece more timeless than a white button down
The video: "Everytime," 2003
Let's start with early Britney, just recovering from a breakup with Justin Timberlake and feeling a little vulnerable. In this video, she's in the throes of an abusive relationship while wearing her man's oversized button down, stilettos and a dad hat.
Although the video is more than a decade old, a white oxford is still a closet staple.
2. Crop tops are the reward for weeks of grueling workouts.
The video: "(You Drive Me) Crazy," 1999
The video for this single is actually a thinly disguised promotion for the Melissa Joan Hart and Adrian Grenier rom-com "Drive Me Crazy." As a nerdy waitress in a space age diner, Britney wears quite a bit of plasticky looking fabric.
This is peak fit Britney, so her six-pack abs are out to play. If you've been hitting ab bootcamp every week for months, take a page out of Britney's book and show some skin.
3. Athleisure is timeless, both on and off the indoor basketball court.
The video: "(Hit Me) Baby One More Time," 1998
Baby Britney in a schoolgirl outfit inspired a generation of sexual fantasies, and with good reason.
The singer's tiny skirt and fur pom-poms are memorable, but it's her basketball playing outfit I really love. A neon sports bra and wide-leg athletic pants? You'd catch me wearing that any day.
4. Bondage wear is even better outside the bedroom.
The video: "Womanizer," 2008
By the time Britney gets to "Womanizer," she's seen some ups and downs -- and more than her fair share of bad wigs. The video's premise is a wife in disguise, hounding her cheating scum of a husband.
Britney's naked body grinding on a spa bench won this video an MTV Video Of The Year award, but it's her sexy limo drive outfit that's most notable. That kinky black collar? It would look great with any Friday night bar outfit.
5. If everything in your wardrobe looks miserable, pare down your look.
The video: "Oops!... I Did It Again," 2000
It was the millennium, and skintight was in. Britney Spears' carved muscles and tanned skin were visible on every screen and magazine cover.
There's no better example of Britney in her prime than the "Oops!" music video, in which she entraps a lovesick astronaut visiting Mars for the first time. Her "Titanic" reference may have been on point, but so was that unforgettable red catsuit. It gave birth to today's trendy equivalent, the jumpsuit.
6. The best girl squads know the value of a coordinated look.
The video: "Piece Of Me," 2007
Ah, comeback Britney. After shaving her head and ditching Paris Hilton, the pop star began to get her music career in check as well. This hit is a defiant middle finger to tabloids that tracked her mental breakdown.
Video Britney goes out on the town with a squad of blonde friends dressed in the same outfit so the paparazzi can't tell who's who. If I'm honest, I've also played the "matching girl group" card, albeit without wigs.
7. Never be ashamed to pack a tiny sweater.
The video: "Do Somethin,'" 2004
I'm willing to admit that "Do Somethin'" is a bit of a deep cut, the music video holds a special place in my heart because it was co-directed by Spears under the pseudonym Mona Lisa. You can't make this stuff up.
Spears and co. ride through clouds in a pink jeep, walk in sync and and own a club's dance floor. What's striking, though, is the tiny capelettes Spears wears in almost every scene. Was it unusually cold on set? Was the star feeling vulnerable that day? We'll never know.
8. Men have the best shirts, and stealing them is an unstated social rule.
The video: "Perfume," 2013
"Perfume," off Britney's latest album, is a personal favorite of mine. If it sounds a lot like a Sia song, that's because it is. Still, Britney looks and sounds better than she has in decades. Even her famously terrible extensions aren't visible.
In the music video, Britney wears her man's flannel while the two lay in bed. I like how realistic the set up is. What woman hasn't copped a date's shirt? They're just better.
9. Retro sunglasses are an invaluable summer buy.
The video: "Pretty Girls" feat. Izzy Azalea, 2014
Pretty much every Britney fan hates this song, and with good reason. Britney's attempt to work with the newest generation of pop stars resulted in a tinny, cliche single.
The only thing worse than the song itself is the video, in which an alien Iggy learns how to be human thanks to leopard-clad Britney. I do, however, stand by those sunglasses Britney wears.
10. Drop earrings are the only accessory a girl really needs in order to make a statement.
The video: "Criminal," 2011
This music video primarily served as a vehicle for Britney to act alongside then-fiance Jason Trawick, so it's odd that their chemstry doesn't come across onscreen. What the star lacked in sizzle, however, she made up for in style.
Britney's classy cocktail look, drop earrings and all, is one of my favorites to date.
11. If you have to dress for a black tie occasion, do it with drama.
The video: "Work Bitch," 2013
Is there a single Millennial woman who hasn't worked out to the club beat of "Work Bitch"? I don't think so. The hit might've been vintage BritBrit, but the video was an attempt to get back to her sexy roots after a series of not-so-good singles (see above).
There's a dance routine in a desert and a dramatic island in the middle of a shark tank. Through it all, Britney looks flawless. That pink gown she wears is a standout.
12. Mesh. Is. Timeless.
The video: "Toxic," 2003
Of all Britney's videos, this musical take on a spy narrative is probably the most widely beloved. Whether you worshipped the sensual flight attendant or the leatherclad spy, Britney undoubtedly awed you.
My favorite look is the bedazzled mesh bodysuit Britney wears. Way back in middle school, the scandalous rumor was that all those diamonds were digitally imposed over the star's naughty bits. Kim K could learn a thing or two from Britney's sexy style.
13. See point #12 again.
The video: "Circus," 2008
We're back at comeback Britney, and she's looking good. "Circus" was the singer's change to take control of her image once more, playing Marilyn Monroe-meets-ringleader in a vintage-themed video.
Again, Britney puts gemstones and mesh to good use.
14. Never, under any circumstances, wear undies over pants. It's not a cute look, even on Brit.
The video: "I'm A Slave 4 U," 2001
The world may have ended and death by dehydration may be imminent, but that is no excuse for a neon g-string over denim flares. For shame, Brit.