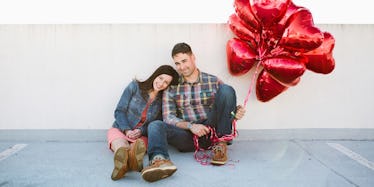 These Brides' Reactions To Their Proposals Prove Even True Love Can Be Awkward
No matter how Type A our personalities, we can't predict how or when we'll get engaged. Although it's possible to micro manage every other detail of our lives, we just need have chill out about the proposal.
The best part about the whole thing: You can't even know what kinds of thoughts will pop into your mind when your SO gets down on one knee and pulls out the diamond. Think you'll play it cool? Think you'll obviously shout out "yes" before popping a bottle of Veuve Clicquot? You wish. You don't know how you'll react, what you'll say, feel or even do.
Just listen to what these seven brides admitted actually went through their heads when the love of their lives proposed to them.
Not now, not yet.
"He asked me to marry him in the middle of a park by our house. It was not anything special and it was very sudden. We had only been dating for 10 months, and we didn't live together yet.
I didn't want to say no and end all the good we had going for us, but I didn't want to say yes. I hugged him, took the ring and told him I just needed a minute to process this whole thing. We did end up getting married; we just had a longer-than-usual engagement."
– Hallie K., 27
Is this real life?
"I could not have planned a better engagement for my own self and trust me, I tried to drop hints of what I wanted because I wanted it to be perfect. My hubby did it while we were on vacation.
The best thing he did was hire a photographer who captured my reaction. I felt like I blacked out during the moment so I'm glad there was pictures to remind me."
– Jess L., 31
Why didn't I get my nails done?
"I almost wish he told me or something. My nails were chipped and painted dark blue. Everyone asked me for a photo of the ring and I had to delay sending it to them until I could find a nail salon open at 10 pm that night."
– Chrissy H., 28
My parents are going to be so mad.
"My parents never liked my husband when we were dating. I knew when he asked me to marry him that he didn't ask them for permission, and I didn't care. But my first thought, when he got down on one knee, was wow, my parents are going to punch something when they hear this news."
– Teresa M., 25
How do I say no?
"I know it sounds awful, but I didn't think I wanted to get married. I was in love, but I wasn't in love with the idea of marriage or planning a wedding. Yeah, I was especially not in love with the thought of throwing an overpriced party for guests I hardly liked anyway.
I said no at first, but then we compromised and decided yes to marriage, no to a wedding. We just eloped."
– Gali D., 30
Thank you, Tinder.
"I swiped right and it was the best thing I ever did on my iPhone. That's how we met. When I saw him proposing to me I just wanted to dial up the people at Tinder and tell them how they change lives, and [how] they brought me face-to-face with the love of my life."
– Larissa S., 26
I can't think straight.
"I was so taken back. It was the best moment ever. All I wanted to do was say yes, but the only words that came out of my mouth were, 'Thank you!' That has become our giant inside joke. It was just so hard for me to think of the word yes. It was really the best."
– Beth H., 28
Even if you're crossing your fingers for your bae to pop the question, you never know when it's going to happen. When it does, you also won't know you'll react. So go with the flow, trust your gut and if you want to say no, maybe sleep on it. It may just be those nerves of yours talking too loudly.