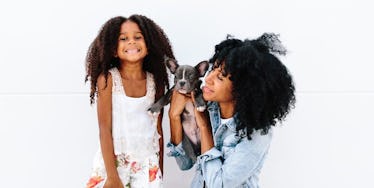 8 Black Mommy Bloggers To Follow For Endless Life Hacks And Inspo
Kristen Curette Hines
Motherhood, in 2017, is more stylish and popping than ever!
Long gone are the days when a woman's identity as a mother overshadows everything else in her life. Celebrities like Beyoncé, Ciara and now, Serena Williams, are the famous figures who consistently show us that motherhood may sit at the top of the list, but isn't the entire list.
There are also bloggers who provide a lot of practical inspiration with tips for moms about keeping a full life even while taking on the important role that is raising a child.
Here are a few blogs run by black mothers that you'll be glad you bookmarked:
1. My Brown Baby
"My Brown Baby" was created by writer, Denene Millner, and focuses on providing advice, news and perspectives geared toward African-American parents. The parenting blog reads less like a self-help book and more like a heart-to-heart chat with family. It covers everything from books for black kids to pop culture news bites that impact black children.
Fun Fact: The site's editor-in-chief is also a successful author. She helped to write Taraji P. Henson's memoir, "Around The Way Girl" and also has a new children's book named after the website.
2. Mattie James
Who says you're banished to mom sweats just because you have a kid? Social media influencer, Mattie James, is always serving major looks on both her Instagram and her blog, where she writes about everything from healthy eating tips to balancing her parenting and with her work life.
3. Naptural85
Whitney is a natural hair vlogger who shares hair tutorials and product reviews on her Naptural85 vlog.
The cutest moments are, of course, the ones in which she incorporates her daughter, Olivia, and empowers her to love everything about her skin and hair.
4. Product Review Mom
This blog, run by Louida Martin, is perfect for moms who with lots of business savvy or moms hoping to gain a little more.
Martin reviews products and events that are geared toward small children and pre-teens. She also shares advice with other moms about how to monetize their own product review skills as she has.
5. Young Mommy Life
Being a young mom can present a different set of challenges, specifically if you are a single mother who is juggling work and school at the same time.
The "Young Mommy Life" blog, started by Tara Jefferson, aims to give young mothers information that will help them navigate their relationships, education, careers and motherhood specifically.
The site offers recipes, self-care tips, webinars and lots of helpful giveaways.
6. Rattles And Heels
Ayanna's parenting blog literally gives a how-to on everything concerning making motherhood a fun experience for both a mom and her kids.
You'll find fun DIY projects, traveling tips, style inspiration and lots of niche subjects like how to handle your child's natural hair.
7. Fab Haute Mama
The "Fab Haute Mama" blog is run by a mom of three, Melissa AKA "MJ." She is a mother, stepmother and wife who has a perspective on blended families but also focuses on style, fitness and food.
8. Jamie & Nikki
Nicki Perkins runs a blog called "Nikki and Jamie" with her husband, which chronicles their lives as newlyweds and what it's like parenting their first child, Ava. They also discuss the importance of taking time to still keep their romantic flame going even as busy parents.
Nikki also has her own YouTube channel, where she offers mothering tips and discusses her birthing process.
Watching their marriage and family channel is literally like watching an adorable TLC reality TV show. You can't help but to fall in love with their love story and feel like you're watching Ava grow up right before your eyes.