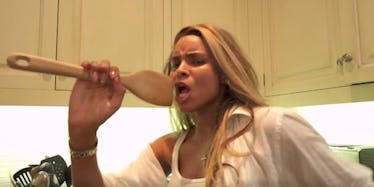 Very Pregnant Ciara Dances Around House Singing 'I'm Every Woman' In Cute Video
Facebook
Ciara just proved nothing can stop her from tearing up the dance floor -- even being super pregnant with her second child. And I mean REALLY FREAKIN' PREGNANT.
The R&B songstress -- who looks like she's about to pop -- posted a video of herself dancing to Whitney Houston's hit song "I'm Every Woman."
And it's the cutest music video she's ever released.
In the video she shared on Facebook and Instagram, laid-back Ciara is dancing around her casual mansion in a tight white tank top that shows off her extremely pregnant belly.
She starts the clip in her kitchen, presses play and grabs a wooden spoon to use as a fake microphone. (We've all been there.)
SING IT, GIRL.
Looking seductive AF, she waves the spoon at the camera and shimmies her way across the floor and into the living room.
When she gets to her living room, she gives everyone a minor heart attack and leaps into the air ever-so gracefully, letting her pregnant belly soar.
Ciara, be careful! There's a baby in there!
Psh, who are we kidding, though? This is Ciara we're talking about. She's a freakin' pro.
As soon as Ciara hits the cushion, she pops right back up and raises her arms with the music as her son watches from below.
Before she leaves the couch, she kneels down, gives him a quick kiss and starts grooving to the rhythm into the next room.
Seconds later, she dances past her husband, Russell Wilson, who puts down a book he's reading and stares at the camera in shock.
I could imagine he's thinking something along the lines of, "DAMN, THAT'S MY GIRL!"
As the singer/goddess struts her stuff in front of her boo, she dances into the next room of her gorgeous home and brings down the dance floor.
The fact that she's insanely pregnant makes her moves even more impressive.
Please note Russell watching in awe from behind her.
Ciara ends the video with a dramatic sweater toss at the camera, and the footage unfortunately stops.
When she posted the video on Facebook, she captioned it, "#ImEveryWoman, It's All In Me!" Whitney would be proud.
In fact, Saturday is the five-year anniversary of Whitey Houston's death. And Ciara's video was the perfect tribute to the monumental artist.
It's easy to say Ciara's baby is going to straight-up dance out of her womb, and I wouldn't doubt if the child loved Whitney Houston as much as this mama does.